Two Women Carry Same Baby and Make History: All the Details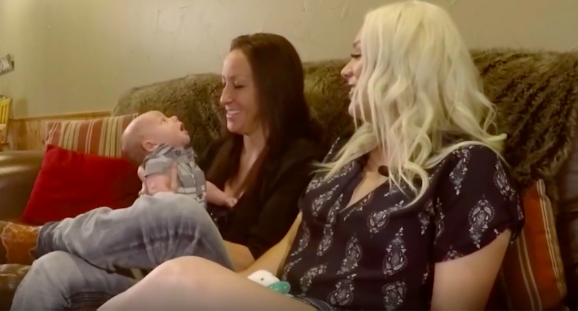 A couple in Texas are making history for carrying the same baby for the first time thanks to a new procedure called Reciprocal effortless IVF. Moms Ashleigh and Bliss Coulter, who have since gone viral, told NBC 5 that they both wanted the experience of being pregnant.
"Obviously, us being two women, we were like, 'How can we make this happen?'" Ashleigh told the news outlet. "We felt like there has to be a way."
The couple found a way thanks to Dr. Kathy Doody, from the C.A.R.E. Fertility Clinic in Bedford, Texas, who helped them undergo the history-making procedure.
"[Bliss] got the embryo off to an early start," Dr. Doody explained to NBC 5. "The eggs fertilized in her body." Dr. Doody then removed a device called the INVOcell and froze the embryos, which were later transferred to Ashleigh, who carried their baby until he was born in June.
"Bliss got to carry him for five days and that was a big part of the fertilization, and then I carried him for nine months," Ashleigh explained. "So that made it really special for the both of us — that we were both involved. She got to be part of it, and I got to be part of it."
Bliss and Ashleigh named their 8 pound, 3 ounce, bundle of joy Stetson. The cost of effortless IVF using INVOcell, according to NBC 5, is approximately half the cost of traditional IVF.

Ryan Seacrest
Ryan is quite simply one of the most influential, well-regarded, and well-known names in Hollywood. He is the quintessential Hollywood insider who always manages to have the biggest scoops and the most sought after access to top events and celebrities.
Read more