Tanya Rad Uncovers a Breakup Song She Wrote, Ryan Sings It 😂
This is too good. Tanya Rad is moving apartments and uncovered a breakup song she wrote nearly a decade ago after she and her longtime boyfriend broke up. The title of the song is "Just Like That" and is an emotional rollercoaster for our #modernwoman, so Ryan Seacrest and Sisanie graciously (and hilariously) did a dramatic reading of it on-air instead.
"They always say: Write it down," Ryan prefaced, before revealing the jam. "Great therapy to write it down. You want to accomplish something? Write it down. You want to get through a tough time? Write it out. And you did that when you broke up with the guy from Arizona."
Tanya explained that it's been 6 years, but that she was devastated following their split.
"So one of the songs I listened to after my breakup was a song by Demi Lovato [called 'In Case'] and I would listen to that song on repeat, on repeat, on repeat and just cry," she shared. "So this song I wrote, it's kind of in the same melody so I wrote down lyrics."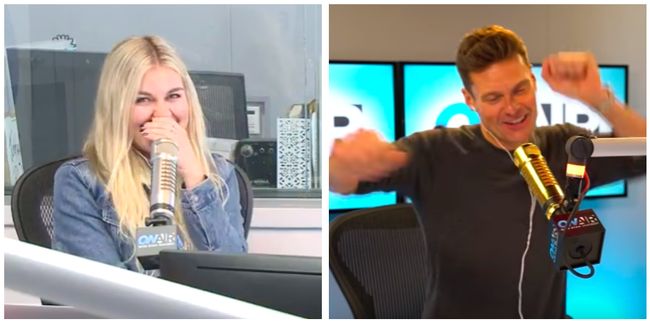 The song includes lyrics like "Cant even put into words how much I loved you" and "I always thought you felt the same." The real zinger though? "Who knew that phone call would end like that?" And "who knew that kiss would be our last?"
!!!!
After delivering their dramatic — and seriously LOL — reading, Ryan praised Tanya because the lyrics aren't bad -- and she's come out on the other side post-split.
"That's great," he said. "iI's very therapeutic. I see the ride we went on. … And as we look back and as we say on this show, all these challenges, all of these speed bumps, are there to make you better and look at you now! I'm glad you're not with the [Arizona] Wildcat, he doesn't deserve what you have become because you are beyond better than what you were 10 years ago when you wrote this song."
I mean, cue the happy tears!
Watch back the hilarious on-air moment and who should we have record the song? Because, what up Charlie Puth and Julia Michaels!

Ryan Seacrest
Ryan is quite simply one of the most influential, well-regarded, and well-known names in Hollywood. He is the quintessential Hollywood insider who always manages to have the biggest scoops and the most sought after access to top events and celebrities.
Read more