Property Brothers' Jonathan Jokingly Admits Dates "Scam" Him Into Remodels
Dinner and a — remodel?! Newly single Property Brothers star Jonathan Scott and his twin brother, Drew, stopped by On Air With Ryan Seacrest on Wednesday, October 10, and dished on all things dating and their new children's book, Builder Brothers: Big Plans.
While Drew recently tied the knot with Linda Phan in Italy, brother Jonathan is starting a new life chapter after splitting from longtime girlfriend Jacinta Kuznetsov this past April.
"This is the same scam I get when I go on a date and it turns out she just wants me to pick flooring for her," Jonathan joked after Ryan teased they needed a free remodel. "You guys are always using and abusing."
"Jonathan will have somebody to come home to in Vegas after working months and months and a girlfriend will call and say 'Come over for dinner, I'll make you dinner, you've been working so hard' … and they have flooring samples laid out," Drew confirmed. "It's such a jerk move."
Jonathan jokingly added that he too though is guilty of bringing his eye into their homes.
"It's actually one of two things: They either want me to pick a material or they're afraid to have me over because they think I'll judge their place," he said. "Which I do, of course."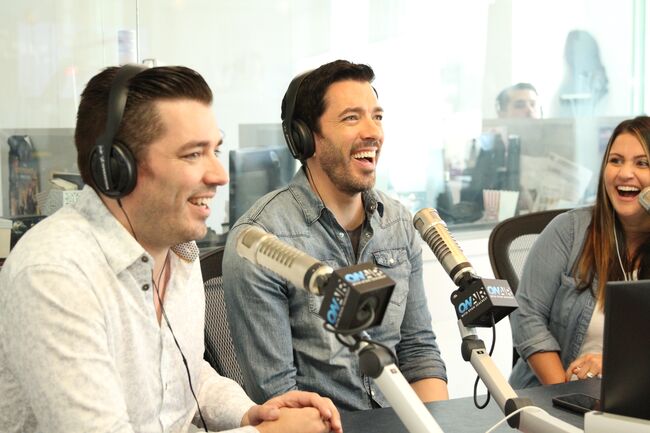 Prior to dating Kuznetsov for the past couple of years, the HGTV star was asked to be ABC's The Bachelor three times!
"That would be my nightmare," he said of why he's turned down the gig. "I can't imagine trying to wheel 30 women at one time. I've tried to go out in the past with like two simultaneously and I can't. It's just crazy."
The duo are now celebrating the release of their children's book, Builder Brothers: Big Plans, which they shared came about after they reflected on their own childhood. The picture book features the brothers as kids who've decided to build a doghouse, and even includes directions for a do-it-yourself project that young readers can complete with their parents.
The bros explained to Ryan that they started designing and selling household items, not to mention building dog houses, at the young age of 7!
"We thought this was a natural segue and we've always been involved in children charities surrounding education and cancer research and we feel like children are the next generation," Jonathan added. "They're going to do amazing things if we foster that creative ability."
Drew added: "We dreamed big as kids and I think that's one reason we've seen the success we've seen and we wanted to pass that on to kids."
Watch back the full interview above for more, including if they have twin intuition or not -- and to find out what that slap was for!

Ryan Seacrest
Ryan is quite simply one of the most influential, well-regarded, and well-known names in Hollywood. He is the quintessential Hollywood insider who always manages to have the biggest scoops and the most sought after access to top events and celebrities.
Read more