Tanya Hilariously Debates With Ryan About Jingle Ball "Spirit Week"
It's almost the most wonderful time of the year — iHeartRadio's Jingle Ball! On Wednesday, October 3, iHeart announced the official announcement for the 2018 lineup will be revealed on Monday, October 9, by ours truly Ryan Seacrest.
Because it is always the most fun show, with an equally epic line-up, Tanya Rad wanted to celebrate leading up to the announcement with "spirit week."
Ryan and Sisanie, however, think we should wait to celebrate spirit week a week before the actual show …
"You know how we did in high school spirit weeks before like a big announcement or like the homecoming game? We would do like a spirit week here on the morning show and one day would be like crazy hair day and … we'd have different days leading up to our big Jingle Ball announcement next week," Tanya shared.
But then Ryan pointed out because it's Wednesday, it's technically already half-way through the week …
"It's all leading up to the announcement or the concert?" he asked. "Tuesday is the announcement … so we start tomorrow? No, I would do leading up to [actual] Jingle Ball. So we do the announcement Tuesday and then the week of Jingle Ball is the spirit week."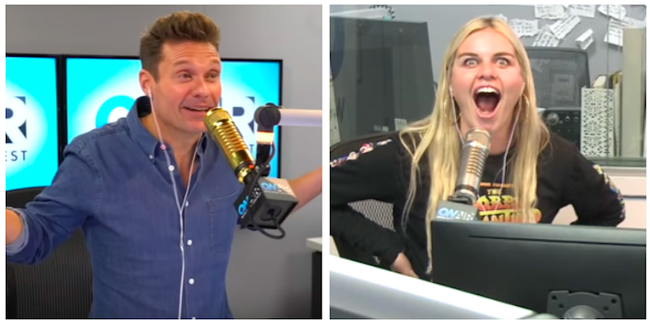 "Excuse me!" Tanya interjected. "This was my idea!"
The fam then took a vote with Engineer Tubbs serving as the tie breaker.
"I think the week of Jingle Ball makes more sense" Tubbs voted, sending Tanya into a frenzy.
Watch back the funny on-air moment in the video above and click here for everything you need to know about iHeartRadio's 2018 Jingle Ball.
This year's lineup will feature Grammy-winning artist Alessia Cara, along with previously announced performer Bebe Rexha on selected tour stops. The full lineup will be revealed on October 9. The iHeartRadio Jingle Ball Tour will stop in Dallas, Los Angeles, San Francisco, Minneapolis, Boston, Philadelphia, New York, Washington, D.C., Chicago, Atlanta, Tampa and Miami/Ft. Lauderdale.
Collaborating with Capital One for the fourth year, cardholders will be the first to get exclusive access to tickets on October 10. All other tickets will go on sale to the general public on October 15 through iHeartRadio's official website.

Ryan Seacrest
Ryan is quite simply one of the most influential, well-regarded, and well-known names in Hollywood. He is the quintessential Hollywood insider who always manages to have the biggest scoops and the most sought after access to top events and celebrities.
Read more