Watch Flirty Nicki Minaj Make Stephen Colbert Forget He's Married
Leave it to Nicki Minaj to make Stephen Colbert blush. The rapper appeared on CBS' The Late Show on Monday, August 13, to promote her new album, Queen, and left the late-night host almost forgetting he's married.
It all stated after Colbert mentioned track "Barbie Dreams," in which Minaj calls out out 50 Cent, Drake, Eminem, DJ Khaled, Meek Mill and other famous men.
"You, in no uncertain terms, describe the reasons why these men would not be able to, as the kids say, 'get with you.' But I noticed I'm not on the list of men. It's pretty comprehensive...I'm just curious: If I were to make the list, how might you inform me?" Colbert said. "What lines might you drop about me?"
Minaj then freestyled: "I might f--k Stephen after the show / He gon' come back to work with a magical glow."
Blushing, Colbert quipped from behind his hands: "Are we still broadcasting?"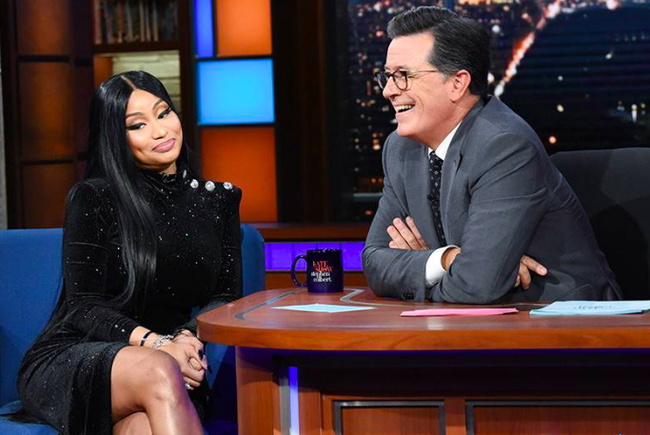 "I wasn't done, Stephen!" Minaj joked. "And then the ending says, "But when you see us please, f--king don't stare / Just address me as Queen Nicki Colbert."
"It's all downhill from here," Colbert added, to which Minaj then asked: "Are you married?"
"What?" Colbert said, before adding: "Why, yes. Yes, I am. Yes, I am. I'm married."
Minaj jokingly seemed disappointed and said "Shout out to her."
"Absolutely. Shout out to you, darling," Colbert said to camera. "It's all show business!"
Watch the funny moment above.

Ryan Seacrest
Ryan is quite simply one of the most influential, well-regarded, and well-known names in Hollywood. He is the quintessential Hollywood insider who always manages to have the biggest scoops and the most sought after access to top events and celebrities.
Read more