Bachelorette Becca's Gold, Three Oval Engagement Ring: All the Details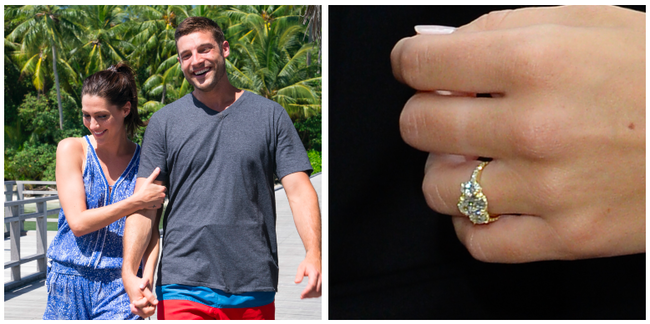 She said yes! Neil Lane is dishing on Bachelorette Becca Kufrin's stunning 4-carat diamond engagement ring from season 14's finale winner Garrett Yrigoyen. The jeweler revealed to People magazine that he wanted to design something "very special" for Becca considering all she had been through after getting dumped by Arie Luyendyk Jr. on national television last season.
"I wanted to make a ring that was totally different than anything I had done for the show before," Lane told People. "I wanted to create something very special for Becca, especially considering everything that happened with Arie. … I wanted it to be elegant, quite glamorous and I wanted to use gold," he continued of the unique design. "It's a whole different concept — it has three oval stones, which helps celebrate both of them as a couple and the third diamond represents their future together."
As shown on last night's finale, Garrett loved the idea of the three stones representing their past, present and future.
As for Garrett and Becca, Lane shared he could feel their connection.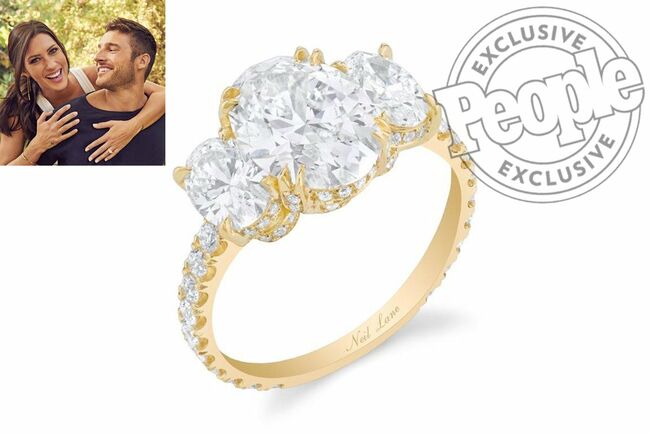 "You could tell Garrett was genuinely smitten, and just so excited and enthusiastic to be with Becca – he was funny, sweet and charismatic," the celebrity jeweler concluded. "He took the process of picking out the ring so, so seriously and seemed to enjoy it. He really studied them thoroughly and had a grin on his face, from ear to ear, the whole time."
The stunning rock is features a gold band and is decorated with 84 full-cut smaller diamonds on the gallery for a total weight of over 3.75 carats.
"[It's] not overly complicated or architectural," said Lane. "I wanted it to be elegant and to look effortless."
In case you missed the finale, Becca sent home a devastated Blake Horstmann, who had picked out a cushion cut diamond design by Lane (in the Instagram above) prior to packing up his bags.

Ryan Seacrest
Ryan is quite simply one of the most influential, well-regarded, and well-known names in Hollywood. He is the quintessential Hollywood insider who always manages to have the biggest scoops and the most sought after access to top events and celebrities.
Read more