G-Eazy Dyes His Hair Blond, Talks Studio "Therapy" Post-Halsey Split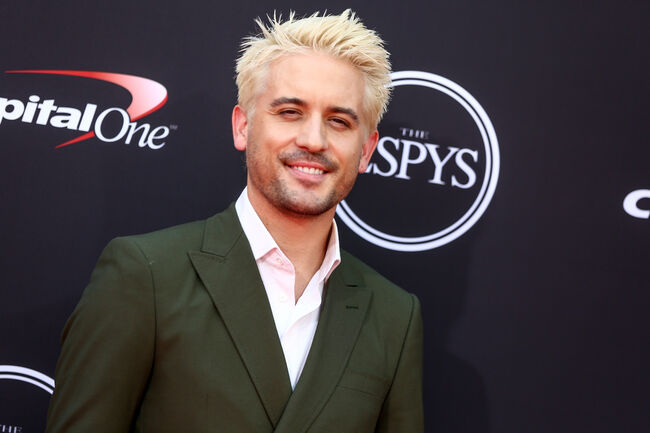 G-Eazy is hitting the studio to cope with his split from singer Halsey. The rapper told E! News at the 2018 ESPY Awards on Wednesday, July 18, that his "therapy" is creating new music.
"I just woke up one day and felt like it," G-Eazy said of his newly dyed blond locks, adding that he's focusing on his upcoming Endless Summer tour and creating new music since splitting from Halsey.
"Anytime anything is happening in my life I go straight to the studio," G-Eazy said. "That's my therapy. That's where I get it out and other than that it's my favorite place to be."
The couple, who collaborated on hit "Him & I," announced on Tuesday, July 3, that they decided to hit pause on their relationship.
"I normally keep this kind of thing private but provided our public nature I feel the need to inform my fans," Halsey shared on social media at the time. "G-Eazy and I are taking some time apart."
"I'm eager to continue the upcoming passage of time dedicating myself to my art and my career, and the duration of my tour," she concluded. "I wish him the best. Thanks for respecting our privacy at this time."
Fans have since speculated that G-Eazy may have cheated on Halsey after the singer posted and then deleted the scissor emoji, leading fans to speculate that Halsey was subtly referencing the lyric in their collab which goes "Ever catch me cheating, she would try to cut my d--k off." She also tweeted "pumpkin eater" referring to the She also tweeted "pumpkin eater," seemingly referring to the rhyme "cheater, cheater pumpkin eater."
While on the ESPY Awards red carpet, G-Eazy also cleared up those Demi Lovato rumors, telling ET they're "just friends."
G-Eazy's Endless Summer tour kicks off on July 20 in Seattle. Click here for more info.

Ryan Seacrest
Ryan is quite simply one of the most influential, well-regarded, and well-known names in Hollywood. He is the quintessential Hollywood insider who always manages to have the biggest scoops and the most sought after access to top events and celebrities.
Read more