Your Sunday World Cup Finale Cheat Sheet!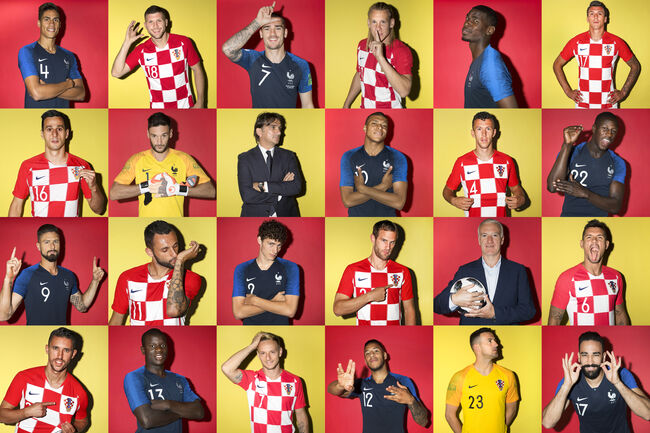 Less then 2 months after the royal wedding we have another reason to get up early on the weekend again — Sunday morning at 8 am PT marks the World Cup Final between Croatia and France!
This is the first time Croatia has ever been in the final (they came in 3rd in 1998) and the third time for France. France won the cup in 1998.
So what do you need to know if you're a rookie but want to still be in the know come Sunday's viewing parties (and morning refreshments and brunch 😉)?
TEAM COLORS:
Croatia's colors are red and white checkerboard, but lately they've been wearing black and blue. France is Red and blue.
MOST POPULAR COCKTAILS:
CROATIA - "The CROcktail"! It contains cherry Maraska, licorice maraschino and orange peel candy.
FRANCE- "The 75"! It contains gin, champagne, lemon juice & sugar
MOST POPULAR SOCCER-WATCHING FOODS:
CROATIA - Blood sausage with sauerkraut (krvavice)
FRANCE - A fried pork sausage inside a thin buckwheat pancake. It is eaten cold and with apple cider
WHERE TO WATCH IF YOU'RE IN LA:
CROATIAN FANS - St. Anthony's Croatian Catholic Church in Chinatown will have it on a movie screen!
FRENCH FANS - 33 TAPS on Sunset in Silver Lake is the place to be.
THE LATEST ODDS:
France - Evens
Croatia - 2/1
Photo: Getty Images

Ryan Seacrest
Ryan is quite simply one of the most influential, well-regarded, and well-known names in Hollywood. He is the quintessential Hollywood insider who always manages to have the biggest scoops and the most sought after access to top events and celebrities.
Read more