Maddie Poppe Dishes to Ryan About Collaborating With BF Caleb and More
Season 16 American Idol winner Maddie Poppe is gearing up for her first-ever tour, the American Idol Live! 2018 Tour, which will feature the top seven finalists from the first season of ABC's reboot of the reality competition series, as well as season 8's winner, Kris Allen, and, not to mention, her boyfriend Caleb Lee Hutchinson.
The pair adorably met and started dating during season 16, prior to Poppe being crowd the next American Idol.
"Uhh," Poppe teased when Ryan Seacrest asked if the duo are still going strong. "No, I'm kidding, yes [we're great]. We are actually working on a song together right now."
Poppe, who stopped by the studio on Thursday, July 5, shared that she and Hutchinson will indeed perform a song together on the tour, but it won't be their official debut just yet.
"We're going to write [an original] eventually," she added, "But its a cover for right now."
While both are focusing on their singing careers, Poppe added that she thinks her boyfriend should also explore his comedic side.
"I always tell him he should do standup too," she gushed. "He's so funny."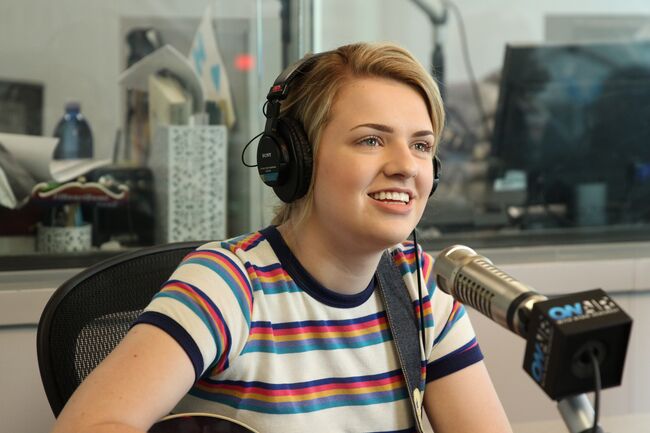 With their post-Idol lives in full swing, Poppe is also locking down more songs, aside from her original Julia Michaels' collab "Going, Going Gone."
"[Hollywood Records will] call me in to do a listening session," she shared with Seacrest of how the process works. "So they kind of sort through all these songs and think, 'Well, which ones would be good for Maddie?' So they pick out a bunch and then they play them for me … and tell me like 'This person wrote this,' 'The lead singer from fun. wrote this' and it's just like crazy that I'm getting the opportunity to record these songs."
Listen back to the full interview above to hear more, including a live acoustic performance of "Going, Going Gone" and to find out which artist Poppe was most excited to meet.
Click here for tickets and more info on the American Idol Live! 2018 Tour.

Ryan Seacrest
Ryan is quite simply one of the most influential, well-regarded, and well-known names in Hollywood. He is the quintessential Hollywood insider who always manages to have the biggest scoops and the most sought after access to top events and celebrities.
Read more