Bride's "Genius" Ikea Hack Goes Viral
A bride is going viral for finding use of those giant blue Ikea bags.
Earlier this month, a Facebook user by the name Djsweeby shared the innovative trick in a post that has since gone viral. In the pic, the bride, who identifies herself as Tina in a blog post, shared that the Ikea Frakta shopping bag was her saving grace when it came to using the bathroom on her big day.
"I got married a few weeks ago (in a mermaid wedding dress) and I was really worried about going to the bathroom and not being able to … handle myself. Someone helping or watching me going to the bathroom on my wedding day? NO WAY!," Tina wrote in her blog. "My bridal bathroom helper hack costs about 0.80 euro [$1.29] and I did it the day before my wedding. It took only 3 minutes. What I like best is it's almost free and allows me to make my life easier on my wedding day."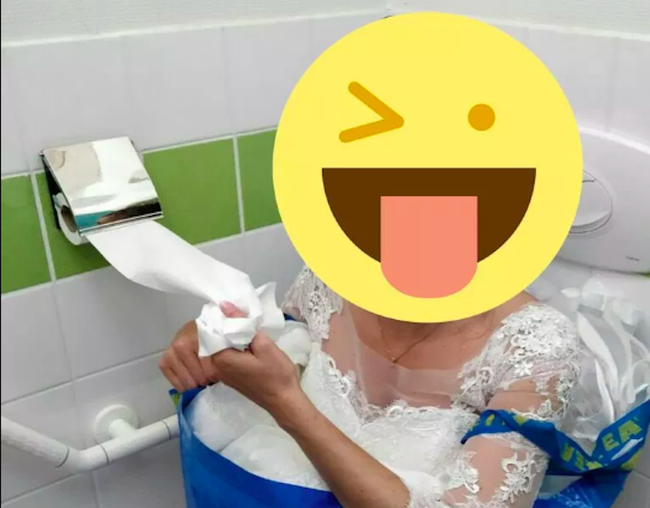 To make her "bridal bathroom helper," Tina cut a hole in the bag to be able to step into it and then utilize the remainder of the bag to hold her dress up.
"Simply step inside the bag, your feet in the hole. You don't need to remove your shoes! Pay attention to step in the hole, not in the bag if you don't want to have a dirty wedding dress," she instructs. "Take the bottom of your dress and put it in the bag — all of it. Place the larger handles on your shoulders. You can also if you prefer, ask someone to just help you put the dress inside the bag and to leave you alone after."
Tina concluded that "being a bride and having some privacy IS possible."
Click here to read her full post and for the exact instructions.

Ryan Seacrest
Ryan is quite simply one of the most influential, well-regarded, and well-known names in Hollywood. He is the quintessential Hollywood insider who always manages to have the biggest scoops and the most sought after access to top events and celebrities.
Read more