Zoë Saldana on Raising Her Sons in a "Very Gender-Fluid Environment"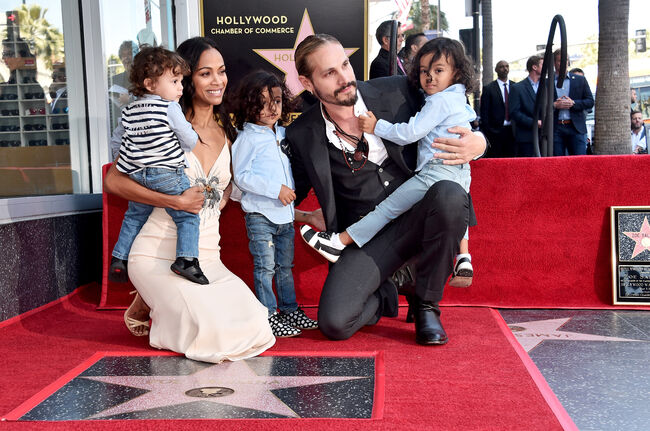 Zoë Saldana doesn't subscribe to gender stereotypes in her household with husband Marco Perego-Saldana.
The Avengers: Infinity War actress told People magazine at the American Express Simplify Your Summer event at Milk Studios in N.Y.C. that the Time's Up movement has changed her "for the better" when it comes to parenting their three sons Zen Anton Hilario, 18 months, and twins Cy Aridio and Bowie Ezio, 3.
"When you look at parenting, the whole thing about matriarchy and patriarchy, and Daddy's little girl and Mama's boys — my husband and I find that completely ludicrous and absolutely unhealthy for the upbringing of a child," the actress explained. "You're giving them a very distorted and limited view on what a female role is supposed to be in a family and what a male role is supposed to be."
To avoid doing so, Saldana continued that they're "raising our kids in a very gender-fluid environment, where our roles are we swap back and forth."
"He's the bad cop, I'm the good cop and vice versa," she added. "There's no such thing as, 'Mom's the boss, listen to your mother.' No, listen to your father as much as your mother because we stand as a unit."
That same unity she applies to female friends and colleagues.
"Women, we were never encouraged by our societies or cultures to work as a team," she concluded. "We were always separated and raised to believe that you have to be competitive with other females. This unity is allowing the support that we all finally needed to move on and run businesses and be in positions of power."

Ryan Seacrest
Ryan is quite simply one of the most influential, well-regarded, and well-known names in Hollywood. He is the quintessential Hollywood insider who always manages to have the biggest scoops and the most sought after access to top events and celebrities.
Read more