Chris Pratt Hilariously Recalls Newfound Bromance With John Travolta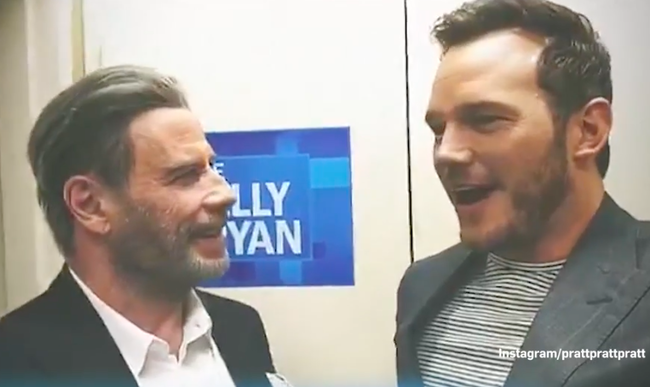 Chris Pratt and John Travolta are the new besties we never knew we needed. The Jurassic World: Fallen Kingdom actor phoned into On Air With Ryan Seacrest on Friday, June 15, after meeting Travolta backstage at Ryan's talk show, Live With Kelly and Ryan on Thursday, and fanboyed over his encounter with the actor.
"I was backstage at your show and next door to me was John Travolta and I was like, oh man, if there's anyone I'd want to get a picture with it's John Travolta, but I'm not going to bother him, so I went and did the show and then I came back and someone from his team said 'Hey, John asked if he could get a picture with you' and I was like 'Whoa!'" Pratt recalled to Ryan on-air. "And so we sat and chatted for about 5 minutes — what a nice guy, it was the first time I'd ever met him — and then I informed him that I was Danny Zuko in high school … and so we started doing this little dance [from Grease] and … it was just awesome … basically I just became best friends with John Travolta."
Both actors posted videos to their social media, sharing with fans their meet and greet.
It was high school plays like Grease where Pratt discovered his love for acting, he added to Ryan. The Minnesota native, who lived in Hawaii after high school, shared that he never thought being a famous actor was attainable though.
"I had just finished doing a couple of plays outside of high school but the prospects seemed so unreal to me that I didn't really ever look at it as something I'd pursue or even know how to pursue," Pratt shared. "I liked being a performer … but I was 19 at the time and I hadn't put too much pressure on myself to figure out anything expect maybe how I was going to get a meal for that day."
As the story goes, Pratt was then discovered in the late 1990s by actress Rae Dawn Chong, who spotted him waiting tables at Bubba Gump Shrimp Co. in Maui and cast him in her directorial debut, Cursed Part 3.
"I think about that all the time," Pratt said when Tanya Rad mentioned the universe was watching out for him that day. "It's one of the only ways I can remain grounded in some way. Luckily it took me another 18 years being here to get to this point. It didn't happen right away and I think sometimes I feel for people who find a tremendous amount of success in a short amount of time because there's not a lot of people who have gone through it … it can be a little isolating … I was luckily in Los Angeles and Hollywood watching people rise and fall before me."
Listen back to their full interview in the audio above and catch Jurassic World: Fallen Kingdom in theaters June 22.

Ryan Seacrest
Ryan is quite simply one of the most influential, well-regarded, and well-known names in Hollywood. He is the quintessential Hollywood insider who always manages to have the biggest scoops and the most sought after access to top events and celebrities.
Read more