All the Feels! Ellen K, Ryan Celebrate Her National Radio Hall of Fame Nom
All the feels! Ryan Seacrest's former cohost Ellen K stopped by the studio on Thursday, June 7, to celebrate her 2018 National Radio Hall of Fame nomination and in true big sister / "life coach" Ellen K fashion, she grilled Ryan on his love life!
"It does feel like home again," Ellen said of being back in the same studio with the On Air With Ryan Seacrest team. "It's family!"
Our fave leading lady in radio announced she was exiting On Air With Ryan Seacrest in October 2015 to join her own show, the Ellen K Morning Show on KOST 103.5 FM. She and Ryan cherish those unforgettable years together, where they experienced life's ups and downs and achievements throughout their 12 years together.
"God, I miss you!" Ryan gushed. "I look at this [nomination] and I think to myself that you are such a part of my life, that my great memories — when I talk about things and think back — the real years of my life, moving to Los Angeles, involve you. And I'm going to cry telling you this, but I do think back to these real years in my life to when I started at KIIS up until you went to do your show at Kost, like, these were really important years and you were there for all of it."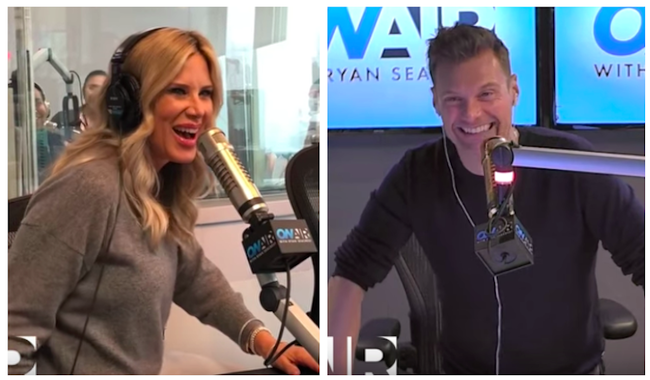 Holding back happy tears, Ellen joked that she measures their time together through keeping up with his personal life.
"Aw, well, we've been through about 17 girlfriends together and now a dog" Ellen joked.
"Two dogs!" Ryan said. "I have Panda and Georgia … [Panda] is my girlfriend's," he added of his girlfriend, Shayna.
"Oh! So now it is a blended family," Ellen quipped. "I love it!"
Personal lives aside, Ellen is facing an amazing life moment: being nominated for the 2018 Radio Hall of Fame. Starting June 4 through June 18, listeners nationwide can vote for their favorite radio personalities in two categories to be inducted into the National Radio Hall of Fame on November 15, 2018. From 6 a.m. ET June 4, until 11:59 p.m. ET June 18, fans can vote for one personality in each category online at www.radiovote.com or via text to 96000 accordingly.
For Ellen K text "100" or click here to vote online! Watch back the cute moment above.

Ryan Seacrest
Ryan is quite simply one of the most influential, well-regarded, and well-known names in Hollywood. He is the quintessential Hollywood insider who always manages to have the biggest scoops and the most sought after access to top events and celebrities.
Read more