Adam Levine's Daughter Dusty Rose Makes Adorable Cameo in "Girls Like You"
Maroon 5 dropped a star-studded music video for new single "Girls Like You" featuring Cardi B on Thursday, May 31, and among the female lineup is Adam Levine's wife Behati and their adorable firstborn daughter Dusty Rose.
Throughout the video, frontman Levine dances alongside everyone from Jennifer Lopez, Camila Cabello, Mary J. Blige and Rita Ora to Millie Bobby Brown, Gal Gadot, Tiffany Haddish, Sarah Silverman, Ashley Graham and Ellen DeGeneres. He even sings alongside a few athletes, including Aly Raisman, Chloe Kim and Danica Patrick, and politicians like Ilhan Omar. Of course, the "Bodak Yellow" artist who raps on the track also makes an appearance.
Behati and adorable daughter Dusty Rose close out the video, joining dad by the mic and embracing each other.
The couple recently welcomed their second child, Geo Grace Levine, in February.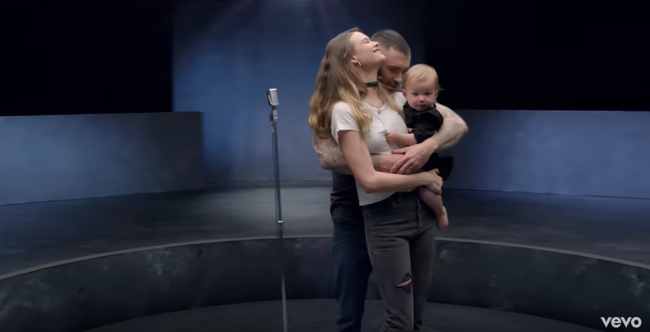 During an interview with Ellen DeGeneres, Levine shared that Dusty is obsessed with her baby sister Geo.
"She's obsessed with Geo to the point where every morning when she wakes up the first thing she says is, 'Geo! Geo! Geo! Geo!' and runs into her room. It's really cute. Totally in love with her," Levine told DeGeneres at the time. "She's a little rough with her because she doesn't understand. So she'll get in her face and do crazy stuff. Being a dad is the most fun thing on the planet."
Watch the fun music video above.

Ryan Seacrest
Ryan is quite simply one of the most influential, well-regarded, and well-known names in Hollywood. He is the quintessential Hollywood insider who always manages to have the biggest scoops and the most sought after access to top events and celebrities.
Read more