Watch Tanya Tell BSB's Kevin Richardson She Used to Kiss His Poster
Leave it to Tanya Rad to tell a Backstreet Boy she learned how to kiss by making out with their posters in her childhood bedroom 😂 The Backstreet Boys — AJ McLean, Howie D., Nick Carter, Kevin Richardson and Brian Littrell — stopped by On Air With Ryan Seacrest on Friday, May 18, to talk about their new single and forthcoming 2018 Wango Tango performance when Tanya Rad revealed that she used to make out with Kevin Richardson's face.
"It's so awkward now," Tanya said, while hilariously blushing after Ryan brought up the story. "When I was younger I used to have your posters up in my bedroom and I used to make out with your face," she told Kevin. "It's just so weird because when I was making out when your face I would never think in a million years I'd be [in the same room as you now]."
Kevin and the rest of the gang hilariously responded with AJ asking: "How many times did you make out? Did that little area finally get so damp it just welted away?!"
Kevin, who has been married to wife Kristin Richardson since 2000, accepted the compliment and told her that he's "honored" she learned how to kiss using his poster.
Jokes aside, the group also dished on their new single "Don't Go Breaking My Heart" and revealed that their comeback hit was almost Maroon 5's single "Wait."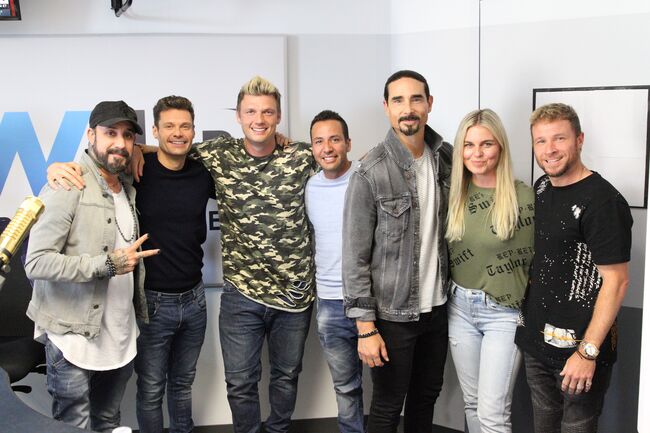 "Either we have them or they were taken from us. I think it's an interesting story," AJ shared when Ryan asked if they ever give away songs demoed to them. "When we first got in with a producer named J Kash [Jacob Kasher Hindlin], this was almost 2 years ago, we were sitting at the studio and he was playing us song after song and this one song that we all loved across the board called 'Wait' [played] and we were like 'Save it! Save it! We really wanna cut it' and next thing you know we don't hear much about it and then we heard it on the radio," the band recalled, adding that they were let down but that Adam Levine crushed it.
Watch Tanya's hilarious confession above and listen back to the full interview to find out more about their forthcoming 2018 Wango Tango performance, where they'll hit the stage along with previously announced artists including Shawn Mendes, Ariana Grande, Meghan Trainor, 5 Seconds of Summer, NF, Miguel, Janelle Monáe, Sabrina Carpenter and Marshmello with a special guest performance by Logic.

Ryan Seacrest
Ryan is quite simply one of the most influential, well-regarded, and well-known names in Hollywood. He is the quintessential Hollywood insider who always manages to have the biggest scoops and the most sought after access to top events and celebrities.
Read more