Kelly Clarkson "Terrified" to Host Billboard Awards: "I'm Not a Comedian!"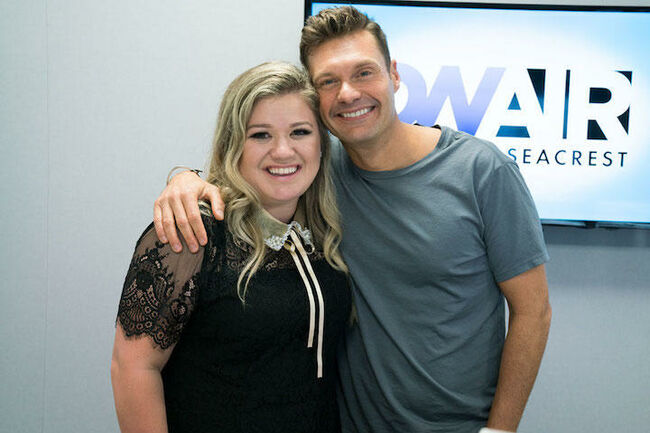 Kelly Clarkson rose to fame in 2002 after winning the inaugural season of American Idol and has since secured three Grammys to date, among a bevy of other awards, but she still gets nervous. The "I Don't Think About You" songstress, who is hosting the 2018 Billboard Music Awards, phoned into On Air With Ryan Seacrest on Thursday, May 9, and revealed to Ryan she's "terrified" to host the upcoming awards show.
"I think I'm so terrified and nervous that … I'm so past 'What the hell am I doing hosting an awards show?' that I'm down," she joked. "We're trying to navigate it to where its like — I'm not a comedian because even if I had jokes, I can't make fun of artists that I work with or am possibly going to work with — so I can't do that thing so we will see. It's either going to be fun or funny to laugh at so either way it'll be entertaining."
Before hitting the stage where Demi Lovato, Christina Aguilera, Ariana Grande and more are set to perform, Kelly's going to take time off rehearsals to enjoy Mother's Day with her two adorable kids, River, 3, and Remington, 2.
"I'm gonna be relaxing with my kiddos," she shared of her plans. "I know it sounds boring, but sometimes not doing anything is amazing."
The songstress, who is married to Brandon Blackstock, added that her husband helps organize the day.
"The tradition is my husband always does some like beautiful, personal, cute thing from [my kids] and then my nanny has them make me something," she added. "I always end up crying, but its not hard to make me cry."
Listen back to the full interview to hear more from Kelly, including what she loves most about The Voice.
The 2018 Billboard Music Awards will take place Sunday, May 20.

Ryan Seacrest
Ryan is quite simply one of the most influential, well-regarded, and well-known names in Hollywood. He is the quintessential Hollywood insider who always manages to have the biggest scoops and the most sought after access to top events and celebrities.
Read more