Diego Boneta Reveals Why Luis Miguel Finally Authorized Official Biopic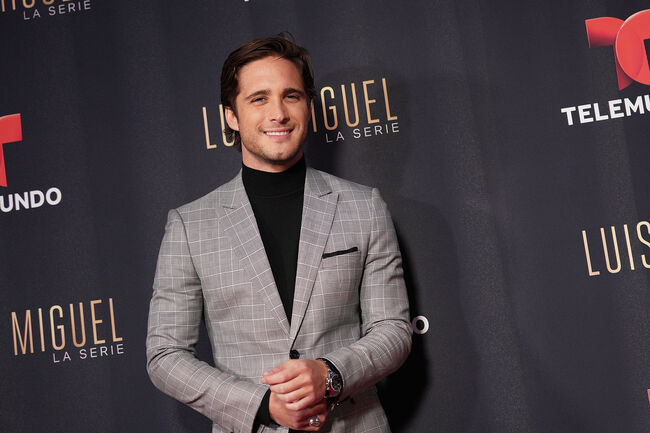 Diego Boneta has landed the role of a lifetime: portraying uber private superstar Luis Miguel in the first-ever official biopic of the Grammy award-winning multi-platinum recording artist. During an interview with On Air With Ryan Seacrest on Thursday, April 26, Boneta revealed why Miguel is finally letting fans in on his personal life with new series Luis Miguel La Serie.
"He's a super private guy … it's quite fascinating really because it's brilliant on his behalf because people only know him for what he does for a living which is singing but no one knows anything about his private life," Boneta explained. "This is the first time he's authorized something about his life. There's no bios, there's no books. Nothing."
The Grammy winner, known as "El Sol de México," is one of the executive producers of the 13-episode television biopic which premiereed in the United States on Telemundo last Sunday.
"I think the right team of people got behind this," Boneta added to Ryan of Miguel's decision. "MGM is doing this with Gato Grande [Productions] which is the production company that his best friend is a part of so I think he knew this was going to come at some time and the fact that it's his best friend there's trust and you have Mark Burnett behind it. It's a solid team of people."
Boneta spent a year with the legend, learning his every move and even dropping a whopping 24 pounds.
"What I really like about the show is it's not filtered," he concluded. "… Everything is there."
Luis Miguel La Serie is available on Telemundo and on Netflix in Latin America and Spain.
Listen to the full interview above.

Ryan Seacrest
Ryan is quite simply one of the most influential, well-regarded, and well-known names in Hollywood. He is the quintessential Hollywood insider who always manages to have the biggest scoops and the most sought after access to top events and celebrities.
Read more