Robby Hayes Gets Trolled After Posting Emails With Ex Amanda Stanton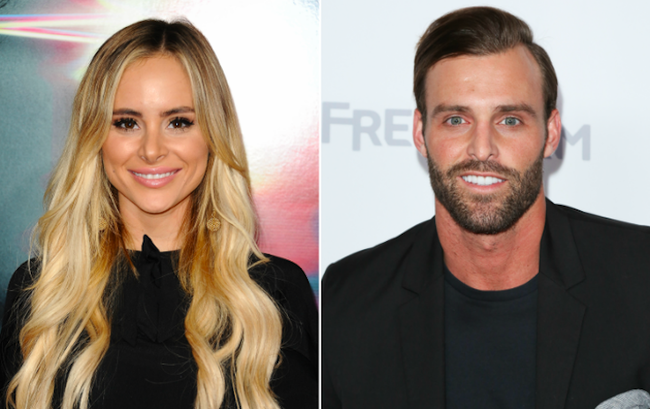 Umm and this was all over a Disneyland annual pass 😂 Bachelor alums Amanda Stanton and her ex Robby Hayes are making headlines for getting into a Twitter feud on Wednesday, April 11, over annual Disneyland passes.
It all started after Amanda tweeted about an unnamed ex who hit her up about a past payment.
"I got a new debit card last month and got an email from an ex this morning forwarding me an email that his Disneyland Annual Pass payment was declined & to update my card info… I sure know how to pick em," she tweeted, before Robby went HAM.
Robby then ousted himself as the ex and posted their email exchange with the caption: "Lol is this how it happened or was I was trying to help you poor thing? Let's evaluate below everyone :) (Read the whole thing)."
The emails showed that Robby forwarded Amanda a "severely past due" payment from Disneyland's annual pass. Amanda responded that she had changed her debit card and that she also wasn't aware that she was still paying for his pass and that she wouldn't continue to do so. Robby responded: "I was just being courteous to the fact that it seems like if you don't pay the outstanding balance, they will probably send you to collections."
The kicker though? He ended the exchange with "BTW...nice new tits."
😱
Amanda, who recently shared that she got breast implants, responded "Oh thanks Robby. You're just a gem as usual" and has since deleted her original tweet.
Bachelor fans however have come for Robby.
"Nice new tits"????? And /you/ posted this. You're such a pig," one person tweeted, while another added: "He's just embarrassing himself at this point lol what a moron."
Amanda told E! News that she couldn't believe he even responded to her anonymous tweet in the first place.
"I was surprised by the email when I read it this morning! We haven't spoke since the reunion show," she told the site. "I tweeted it before I heard his response email because I did think it was a little funny he was contacting me about his Disneyland pass...but I never said who it was about or even hinted at it being about him or had any intention to. I didn't expect him to even see it, let alone respond in the extreme way that he did. It's a shame he still harbors such harsh emotions towards me. I deleted the tweets because honestly, I don't like to or want to associate myself with him, or either of my relationships from the show for that matter anymore. I have fully moved on with my life and just like to look at those relationships as learning experiences that have helped me grow as a person. I'm the happiest now than I've been in a very long time and wish nothing but happiness and peace for him, as well!"

Ryan Seacrest
Ryan is quite simply one of the most influential, well-regarded, and well-known names in Hollywood. He is the quintessential Hollywood insider who always manages to have the biggest scoops and the most sought after access to top events and celebrities.
Read more