Lucy Hale Hilariously Describes 'Truth or Dare' Sex Scene With Tyler Posey
When Pretty Little Liars and Teen Wolf collide we get Truth or Dare. Well, not really, but we thankfully get Lucy Hale and Tyler Posey starring alongside each other in the latest must-see scary movie, which is almost better than two of our favorite shows being brought back to life.
The duo stopped by On Air With Ryan Seacrest on Friday, April 13, (Friday the 13th to make it all the better), and dished on everything from their belief in paranormal and witches to that creepy possessed sex scene we get a sneak of in the Truth or Dare trailer.
In the film, Tyler and Lucy play Lucas and Olivia, two college seniors who, while on spring break in Mexico, get sucked into a life-or-death game of truth or dare that ends up following them back home.
"There's quite a few [jump scares]," Lucy shared of the film, reassuring us it's not too scary to see. "This is such a fun movie to watch, it reminds me a lot of a movie I watched growing up: Final Destination. So it sort of has that style, but there are some moments that are pretty twisted and dark."
And by twisted and dark, she means her sex scene in the film, which she had to film whilst her character was also possessed.
"The cool part about this movie is we are obviously people trying to escape this game, but we also get to play the bad guy and my possessed scene is also my sex scene so it was really interesting to shoot," she said, while laughing. "Like those scenes are already so uncomfortable to film but then doing it trying to do this face was the most bizarre thing you could ever imagine."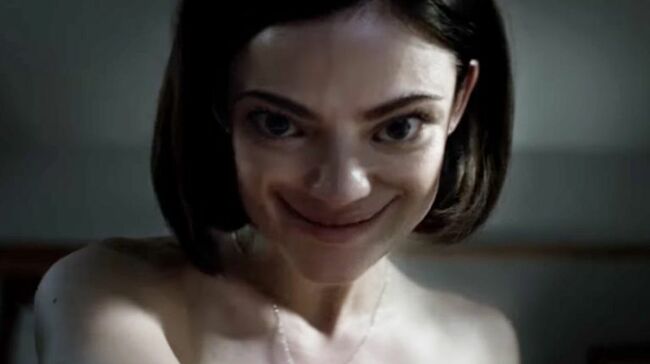 In case you haven't seen the trailer, "this face" Lucy is referring to is above.
Creepiness aside, both Tyler and Lucy do believe in some form of other life and witchcraft.
"I am a believer in anything, I guess," Tyler said. "If anyone is trying to convince me of something and they believe themselves enough, I will believe it. I'm just openminded. I believe in UFOs. I'm [gullible], but I can read you. I can tell if you're being honest or not. I'm intuitive, but, yeah, I believe in aliens."
"I'm so into that," Lucy added after Tanya explained how her roommate got a candle from a local witch in Los Angeles. "I have the candles that you get at the crystal shop where you buy them and it's like 'forgiveness,' 'self love,' and you're supposed to light them until they go all the way down but I don't do that because I'm scared my house will burn down so I just do that when I'm at home and who knows? But I feel better about myself. It might be like placebo."
Watch the video above to relive the full interview and catch Truth or Dare out in theaters now!

Ryan Seacrest
Ryan is quite simply one of the most influential, well-regarded, and well-known names in Hollywood. He is the quintessential Hollywood insider who always manages to have the biggest scoops and the most sought after access to top events and celebrities.
Read more