Expert Shares How to Ease Kids' Fears Over School Shootings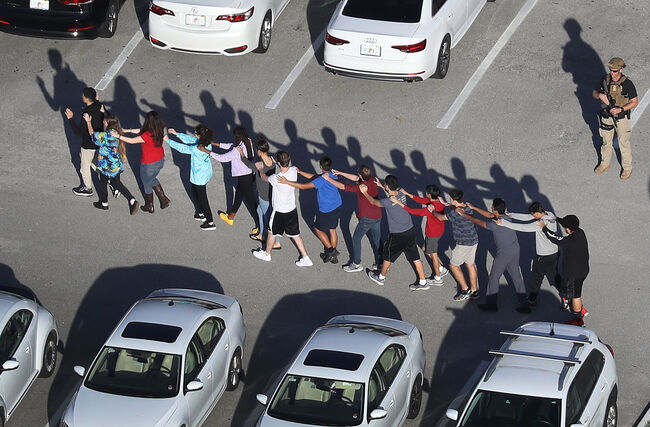 We're barely halfway into 2018 and there have already been at least 17 school shootings in the US so it's not uncommon if your child has developed a new fear. But what can parents tell their kids who are having nightmares and fear a shooting at their own school? Dr. Jacqueline Del Rosario phoned into On Air With Ryan Seacrest on Wednesday, April 4, to help a listener whose own child, 14, is suffering from shooting related nightmares.
Dr. Jacquie, who has a Bachelor's of Science in Psychology, a Master's in Education and a Doctorate of Education in Organizational Leadership, shared with caller Marisa that it's important to change the turn of events in one's nightmare.
"The first thing I would say is you don't want to shield her from the ever-changing world we live in today, but you do want to try to minimize her time watching the news," Dr. Jacquie told Marisa. "I wanted to share a really simple technique that is really, really effective with just curving the nightmares ... allow her to relive one of the nightmares only with this instruction: she's going to change the nightmare. As she visualizes it, she's going to change the turn of the events so it turns out positively in her favor. ... she's going to visualize someone coming to her aid."
Dr. Jacquie explained that this is a powerful technique because it empowers her to feel that she can "see a different outcome than the one that's playing over and over again in her mind."
She also notes that parents should emphasize that school drills are about prevention and not preparation.
"You want to emphasize for her this is prevention ... they're doing this at school to prevent anything from happening," Dr. Jacquie concluded. "So they've learned from what's happened in other instances and now they're applying it to make them safer so that's what you really want to emphasize to her."
Listen to the full interview for more advice from Dr. Jacquie above.

Ryan Seacrest
Ryan is quite simply one of the most influential, well-regarded, and well-known names in Hollywood. He is the quintessential Hollywood insider who always manages to have the biggest scoops and the most sought after access to top events and celebrities.
Read more