Taylor Swift Slays Surprise Performance, Takes Whiskey Shots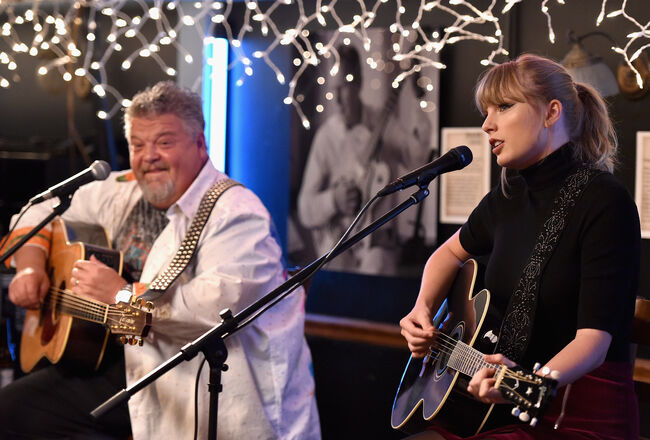 Taylor Swift surprised some 40 lucky fans at Nashville's Bluebird Cafe on Saturday, March 31. The Grammy winner joined songwriter Craig Wiseman onstage for the unannounced performance, returning to the same stage where she was discovered years ago.
"I wanted to say a big thank you to the Bluebird Cafe," Swift said, according to local reports. "I think any songwriter in town would echo my sentiments and say that this is kind of the only place where this exists — this particular place where you get to come and hear the writer's take on the songs they've put out into the world."
The reputation singer performed hits including "Love Story" and "Shake It Off" as well as a cover of Little Big Town's "Better Man," which she wrote. She also took shots of Fireball whiskey with Wiseman after Wiseman told a story about them drinking whiskey at an after-party.
"I got her a shot of Fireball, and then I got her another one," Wiseman recalled, explaining that Swift retreated to a balcony in a VIP area during the bash. "For the rest of the party, I would go get a shot of Fireball ... and snake my hand through the people [on this balcony] in her general direction. I don't even know if she took it, but it disappeared."
Wiseman then quipped "for old-times sake" before they shared the shot together on stage.
The songwriter and Swift first worked together when she was just 17.
Swift's performance was filmed for a documentary in honor of Bluebird Cafe's 35th anniversary. The cafe is where Taylor's career was launched: Big Machine Label Group's Scott Borchetta saw her perform when she was just 14 and offered her a publishing deal. She launched her career in 2006 with her song "Tim McGraw."
Her surprise performance comes ahead of her reputation tour, which kicks off on May 8.

Ryan Seacrest
Ryan is quite simply one of the most influential, well-regarded, and well-known names in Hollywood. He is the quintessential Hollywood insider who always manages to have the biggest scoops and the most sought after access to top events and celebrities.
Read more