Patrick Schwarzenegger Admits He Loves Ryan's Roses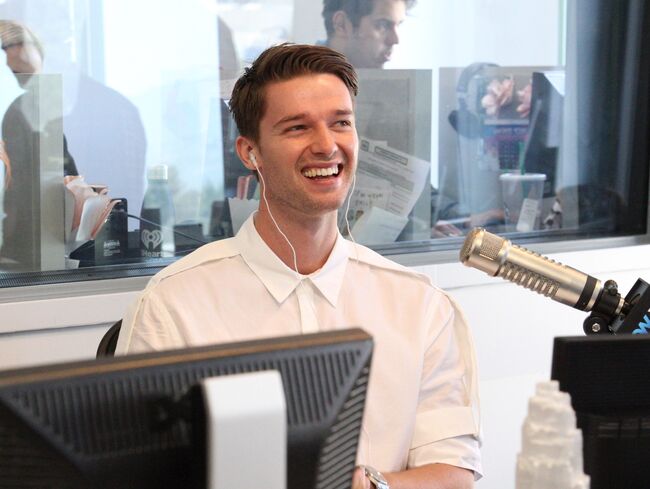 Patrick Schwarzenegger has a guilty pleasure we love him for: Ryan's Roses! The Midnight Sun actor phoned into On Air With Ryan Seacrest on Friday, March 23, and shared with Ryan that he loves to listen to Sisanie and Ryan find out if a concerned spouse's significant other is cheating or not.
"As we know the traffic in LA is horrible so it's something to kind of get me through traffic and just laugh in the mornings," Patrick said. "It's always so interesting to see the results who they are going to send the flowers to."
"I feel bad saying it's funny because it sometimes really is unfortunate and sad and stuff," the 24-year-old added. "But it is entertaining, that's for sure."
As for Patrick, the emerging actor is part of his own complicated romance in new film Midnight Sun, where he stars alongside Bella Thorne.
In the romantic tearjerker, Bella plays a 17-year-old named Katie Price who has been sheltered at home since childhood with a rare genetic life-threatening sensitivity to sunlight. Katie ventures out only at night to avoid the sun and finds herself falling in love with Patrick's character Charlie.
"We started passing out tissues in movie theaters but you guys should bring your own," Patrick teased of the tearjerker, which hits theaters tonight, March 23.
With only a few movies under his belt, Ryan asked Patrick if his famous father, actor and former governor Arnold Schwarzenegger, ever weighs in on his roles.
"He's like totally understanding of me trying to build my own career path," Patrick shared. "He's not like 'Hey do this differently' … and he's never really done this type of a film … but he's just really supportive. Obviously he wants us to do great. He wants me to be doing what I love doing so he gives me more advice when it comes to the business and my school work. Everyday he just says to work my butt off and use every day to make it getting closer to my dream."
The Terminator icon is also a fan of manifesting your dreams.
"Writing my goals down and putting it next to my bed so I wake up and look at them [is among the] little things that he tells me to do that help with the acting as well," Patrick concluded.
Listen to the full interview above and catch Midnight Sun in theaters now.

Ryan Seacrest
Ryan is quite simply one of the most influential, well-regarded, and well-known names in Hollywood. He is the quintessential Hollywood insider who always manages to have the biggest scoops and the most sought after access to top events and celebrities.
Read more