Josh Duhamel Jokes About Playing an Older Dad in "Love, Simon"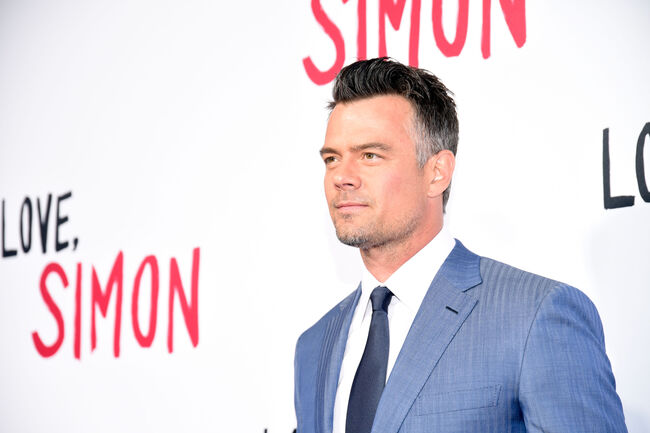 We've known him as Tad Hamilton and Colonel William Lennox but Josh Duhamel is gaining a whole new fan base for his latest role as dad to gay high school student Simon in coming-of-age love story Love, Simon.
The film, which is garnering rave reviews for bringing awareness to the LGBTQ community, had Josh jokingly needing to put his ego aside.
"It was a really fun project to work on," Josh shared with Ryan when he phoned into On Air With Ryan Seacrest on Friday, March 23. "I worked with [director] Greg Berlanti years ago on a movie called Life As We Know It and he asked me if I would play the father to this kid who is a senior in high school and I said I can't possibly be the father to a senior in high school — wait, wait — maybe I can," he joked. "Once I got past that — I'd do anything for Greg — and the movie turned out great. Nick Robinson is fantastic, Jen Garner is great in it and it's a movie I'm really proud of."
Ryan jokingly added that he too couldn't accept Tad Hamilton being a dad to a teenager.
"I guess we've got to put our egos aside at some point, Ryan," Josh quipped, "And just accept it and try to age as gracefully as we can."
Jokes aside, the film in an important one.
"It feels like one of those timeless coming-of-age movies similar to those old John Hughes movies and I think it has that feel for sure with a twist," Josh added of Love, Simon. "My son is gay and is keeping a secret and is terrified to come out of the closet and if there's a message there it's that you should be able to live your own truth and I think that's the resounding message this movie really conveys and that's why I'm most proud of it. It's about tolerance. It's about acceptance. But, it's also a very funny movie."
Listen to the full interview above and catch Love, Simon out in theaters now.

Ryan Seacrest
Ryan is quite simply one of the most influential, well-regarded, and well-known names in Hollywood. He is the quintessential Hollywood insider who always manages to have the biggest scoops and the most sought after access to top events and celebrities.
Read more