Meghan Markle, Prince Harry Attend First Event With Kate, Prince William
Royal newcomer Meghan Markle is fitting right in. Prince Harry and his fiancée attended their first official royal event alongside Duchess Kate and Prince William on Wednesday, February 28.
The foursome joined together at The Royal Foundation Forum in London, England, for Making a Difference Together, the inaugural event showcasing programs that are run or initiated by The Royal Foundation.
The former Suits actress joined the royal family to discuss their philanthropic efforts and their ambitions for the future. Meghan looked stunning in a navy sleeveless dress and black heels while Kate, who is pregnant with her third child, glowed in a purple dress and black heels.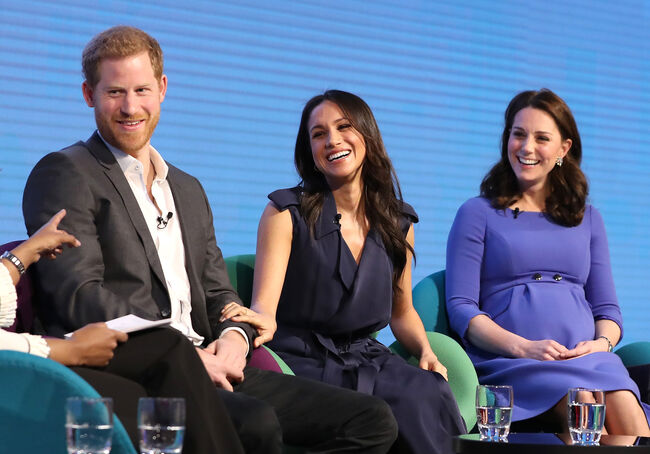 During the panel, the actress touched on women's empowerment and women knowing their worth .
"Women don't need to find a voice, they have a voice. They need to feel empowered to use it, and people need to be encouraged to listen," she said. "I think right now in the climate that we're seeing with so many campaigns, #MeToo and Time's Up, there is no better time than to really shine a light on women feeling empowered and people really helping to support them, men included in that. It makes such a tremendous difference."
Both Prince William and Harry also joked about having "healthy disagreements" with their significant others.
"I think it's really good we've got four different personalities," Prince Harry said. "We've all got that same passion to want to make a difference, but different opinions. I think those opinions work really, really well. Working as family does have its challenges, of course. The fact that everyone's laughing shows that everyone knows exactly what it's like."

Ryan Seacrest
Ryan is quite simply one of the most influential, well-regarded, and well-known names in Hollywood. He is the quintessential Hollywood insider who always manages to have the biggest scoops and the most sought after access to top events and celebrities.
Read more