Jeff Probst Explains Genius Idea Behind New 'Survivor: Ghost Island'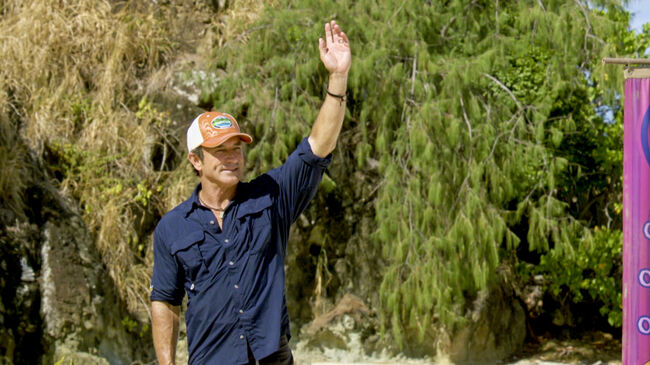 Survivor might be the greatest reality TV creation ever. For the upcoming 36th season (yes, 36!) Emmy-winning host Jeff Probst wanted to switch things up. The longtime host phoned into On Air With Ryan Seacrest on Wednesday, February 28, ahead of tonight's Survivor: Ghost Island premiere and revealed to Ryan he went to a local coffee shop to brainstorm ways to switch up the format.
"We had this name Ghost Island for years, which I know not some great thing, but when you're in a show as long as we are, any new idea is gold," Jeff explained to Ryan. "We had this great name, we just couldn't crack it, and I was looking at all our old attempts over the years and they all seemed terrible upon reflection so I just took a piece of paper and went down to a local Coffee Bean and started writing everything down that had to do with ghosts and islands and mystery."
Jeff and producers then ended up with the idea behind the new season, where, for the first time ever, the show will revolve around the mistakes of castaways past.
"We are actually bringing back all these bad decisions [contestants made]," Jeff continued. "We brought back all the bad decisions and imagine there's a place called Ghost Island where they've been haunting and living and they're coming back now to haunt the next group of players."
The cast of 20 individuals placed on Ghost Island in Fiji also happen to be Survivor superfans and will have the chance to compete to find castaways' previous idols and hidden immunities.
"The idea we brought on them is can you reverse the curse or will it haunt you again?" Jeff concluded of the game-changing new element.
Listen to the full interview above to hear more from Jeff, including which contestant caught his attention.
Catch the season 36 premiere of Survivor: Ghost Island tonight, Wednesday, February 28, at 8/7c on CBS.

Ryan Seacrest
Ryan is quite simply one of the most influential, well-regarded, and well-known names in Hollywood. He is the quintessential Hollywood insider who always manages to have the biggest scoops and the most sought after access to top events and celebrities.
Read more