Shaun White's Pre-Olympic Competition Mantra Will Surprise You
Shaun White secured his third gold medal at the 2018 PyeongChang Winter Olympics after an emotional defeat following a scary injury. The athlete, who earned the 100th overall gold at a Winter Games for Team USA for his halfpipe performance, stopped by On Air With Ryan Seacrest on Tuesday, February 27, to celebrate his epic win and recall his soul-searching journey back to the top.
"It was such an emotional win," Shaun told Ryan. "[My mom] was just so happy for me," he added of the tear-filled moment when cameras cut to his mother. "She knew how badly I wanted this. The close people around me know how devastated I was after Sochi. I play it off in the media, but as a competitor, your reputation is on the line. You have these expectations and years and years of training and it didn't go to plan and it was just so frustrating and I had to figure out why. It wasn't a physical aspect. I had the tricks to win. It was a mental game. I think I was defeated before I got there. … I had to really dig deep and find that motivation again … and then I'm on my path and then, boom, I'm hit with this crazy injury in New Zealand."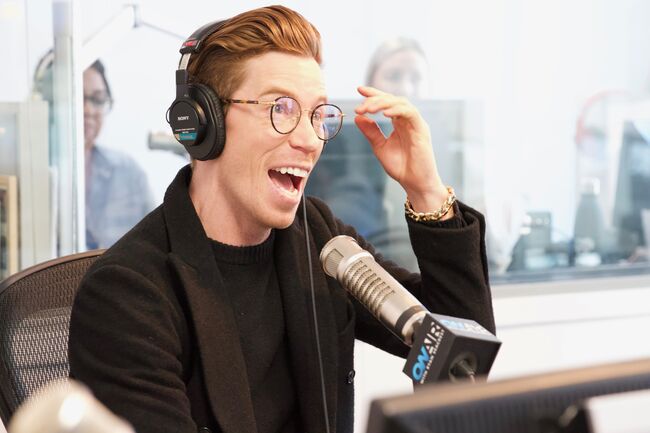 Shaun split his face open while trying to land a complicated trick while training in New Zealand. The accident resulted in him being airlifted to the hospital and receiving 62 stitches in the face.
"It was such a surprise," Shaun told Ryan of his nasty fall. "I'm having the best day ever, it's sunny, they're playing classic rock at the halfpipe and boom! I'm in a helicopter flying to the hospital to be stitched back up so it took that injury to question 'Am I on the right path?' … and 'How badly do I really want this?' … I had to go back and do that same trick that put me in the hospital during the Olympics in order to win so it was this emotional thing."
To prepare for the gold, the medalist has a surprising pre-competition mantra. To avoid freaking himself out, he doesn't watch the other competitors' runs and rides the chairlift over and over until he's up.
"Honestly, I sit there and kind of go 'Who cares?'" Shaun shared of when he's at the top of the platform. "You build it up so much in your mind … but, at the end of the day … it's more of, like, the heck with it! Just go and let this happen. I've been doing this my whole life. I went pro at 13. I've been a competitive snowboarder since I was 7-years-old. I've won olympics before … if I over analyze it, that's whats going to prevent me from winning the medal."
Listen to the full interview above to hear more from Shaun, including how his mom (adorably and totally mom-like) reacted to his nasty fall.

Ryan Seacrest
Ryan is quite simply one of the most influential, well-regarded, and well-known names in Hollywood. He is the quintessential Hollywood insider who always manages to have the biggest scoops and the most sought after access to top events and celebrities.
Read more