MAX Details Swoon-Worthy Love Story Behind Hit Song 'Lights Down Low'
Singer songwriter MAX has been on the scene since starring alongside Ariana Grande on Broadway at the age of 16 and later in Nickelodeon's Rags, but he's transformed his career into hit singer-songwriter with chart hitting 2016 single "Lights Down Low."
The song, which features rapper gnash, is responsible for his engagement and later wedding to wife Emily and MAX seriously stole our hearts when he stopped by On Air With Ryan Seacrest on Friday, February 23, and recalled the story behind the track.
"It changed my life in all ways," MAX shared with Ryan. "I wrote this song about my wife and I proposed to her with this song and I wasn't open about even my relationship with her before this song."
MAX explained that being in the industry, he was encouraged to appear single.
"[It was like] you have to be a single dude and no one's going to listen to your music and this was a moment for me where this song, [I was like], I can't not tell this story," MAX continued. "I can't lie about where it came from. It was this dive saying where if no one ever listens to my music again then that's OK, but I have to be honest where this song came from and being open about that and my marriage, it's been beautiful that people have connected with it."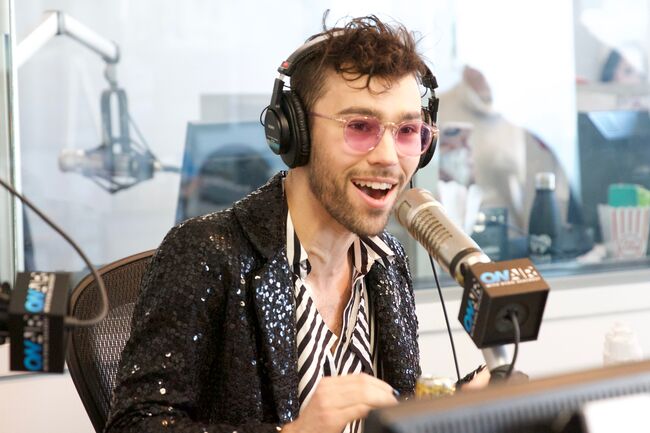 "It was so important for us to be transparent to everyone [about our relationship]," he added. "I think taking that dive was like if were going to transparent about it, if we're going to be real about it, we should show everyone that love is a real thing and we have our little fights and we have our little things and I've got to buy her chocolate if it's that time of the month and make sure she's happy and those are the things that matter."
(Cue the swooning here 😍😍😍😍.)
The couple tied the knot after just six months of dating and at the age of 23.
"It was crazy because she's from England and it was one of those catalyst in our lives where I know she was it and it was a choice of her having to move back to the UK or getting to stay here and it was just one of those moments where I knew she was it," MAX gushed.
Listen to the full interview — and to hear MAX's acoustic version of "Lights Down Low" — above. And catch MAX and gnash perform a special rendition of "Lights Down Low" on Live with Kelly and Ryan's "After Oscar Show," which will air March 5, the day after the 90th Annual Academy Awards, at 9 a.m. ET.

Ryan Seacrest
Ryan is quite simply one of the most influential, well-regarded, and well-known names in Hollywood. He is the quintessential Hollywood insider who always manages to have the biggest scoops and the most sought after access to top events and celebrities.
Read more