Jared Leto Dishes on New Music, Most 'Romantic' Song Yet
Jared Leto and Thirty Seconds to Mars are gearing up for a busy 2018. The band's first album in five years drops on April 6 and they're embarking on their biggest tour yet. Frontman Jared phoned into On Air With Ryan Seacrest on Thursday, February 15, after debuting new music at iHeartRadio's Music Summit and dished on the group's "most romantic" song yet, "Dangerous Night."
"I've written songs about relationships before, but the 'Dangerous Night' is new territory," Jared explained of the track, which is the second single off their upcoming album. "It's a very romantic song. It's … a song about a dark relationship and really I kind of took this idea of what if America was a relationship? What would that be like? And I wrote it out as a song."
Their upcoming fifth studio album follows 2013's Love, Lust Faith and Dreams.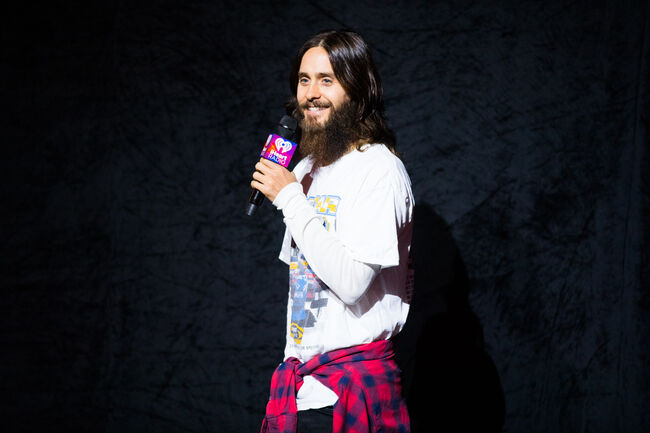 "It's always kind of terrifying because you work on songs for, you know, three years," Jared said of releasing new music. "There was one song that I played first [at iHeartRadio Music Summit] … I literally wrote that song eight years ago so you go and you play it for a group of people that are really important and it goes by in three minutes so there's a lot of pressure."
To alleviate some of that pressure, Jared has his go-to people who hear his music first —one being his mom.
"You've got to play it for your mom, but you have to be careful there too," Jared joked. "You can get a lot of encouragement and I don't know if my mom has ever heard anything she hated but my mom's pretty good with the music. She gives a good opinion."
Listen to the full interview above to hear more from Jared, including what to expect on their biggest, most massive tour yet.
Click here for ticket information for Thirty Seconds to Mars: The Monolith Tour. And here for information on the band's annual Camp Mars festival.
Photo credit: Katherine Tyler for iHeartRadio

Ryan Seacrest
Ryan is quite simply one of the most influential, well-regarded, and well-known names in Hollywood. He is the quintessential Hollywood insider who always manages to have the biggest scoops and the most sought after access to top events and celebrities.
Read more