Olivia Munn Texted Anna Faris Over Those Chris Pratt Rumors
Olivia Munn reached out to Anna Faris over those Chris Pratt dating rumors, she revealed on Instagram stories over the weekend.
Her post come after multiple outlets claimed that Olivia went on romantic dates with Pratt. The Jurassic Park hunk and Faris announced their separation in August 2017 after eight years of marriage. The exes are parents to son Jack, 5.
"1. Not every woman is scorned and upset after a breakup. 2. Not every woman is 'furious' at another woman for dating her ex. 3. So even if I was dating @prattprattpratt, some tabloids got me and @annafaris all wrong," the Office Christmas Party actress shared over a series of posts on her Instagram Story. "4. Women respect and love each other a lot more than some people like to think. 5. Chris and I would have a horrible celebrity name: Crolivia, Prunn, Chrisivia, Olipratt."
Olivia then shared a screenshot of the text she sent to Anna, clearing the air over the tabloid rumors.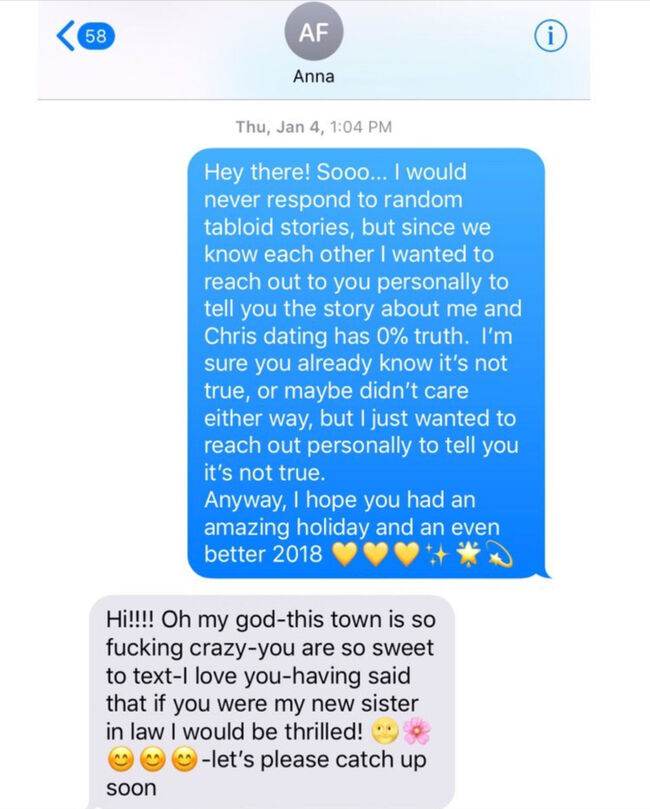 "Hey there! Sooo … I would never respond to random tabloid stories, but since we know each other, I wanted to reach out to you personally to tell you the story about me and Chris dating has 0% truth," Olivia texted her. "I'm sure you already know it's not true, or maybe didn't care either way, but I just wanted to reach out personally to tell you it's not true. Anyway, I hope you had an amazing holiday and an even better 2018."
The House Bunny actress texted her back, writing: "Hi!!!! Oh my god-this town is so f--king crazy-you are so sweet to text-I love you-having said that if you were my new sister in law I would be thrilled! –let's please catch up soon."
Anna is now dating cinematographer Michael Barrett. Olivia was previously linked to Aaron Rodgers.

Ryan Seacrest
Ryan is quite simply one of the most influential, well-regarded, and well-known names in Hollywood. He is the quintessential Hollywood insider who always manages to have the biggest scoops and the most sought after access to top events and celebrities.
Read more