Pete Davidson Says Ariana Grande Engagement Was Over After Mac Miller Died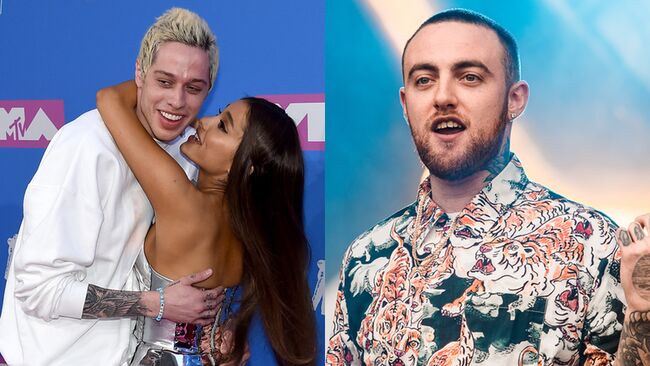 Pete Davidson got real about how Mac Miller's untimely death affected his engagement to Ariana Grande.
The Saturday Night Live star began dating the singer just a month after Grande and Miller pulled the plug on their two-year relationship in the summer of 2018. Shortly after coupling up, Davidson popped the question to the "7 Rings" singer in June. Three months later, Miller passed away at 26 from an accidental overdose, and the funnyman admits it was when the lyricist died that he knew his relationship with Grande wouldn't last.
In a new interview with Charlamagne Tha God, Davidson opened up about how his ex-fiance's grief over Miller impacted their romance, which ended in October 2018.
"I was like, 'Listen, I get it, do whatever you've got to do, I'll be here,'" the 26-year-old recalled of seeing Grande through her mourning. "I think I said, 'I'll be here until you don't want me to be here.'"
Davidson then confessed: "I pretty much knew it was around over after that. That was really horrible, and I can't imagine what that s—t is like. All I do know is that she really loved the s—t out of him, and she wasn't putting on a show or anything. That was f—ed up. Prayers to his family and all of his friends."
Months after losing Miller and suffering a highly-publicized breakup with Davidson, Grande channeled her emotions and heartbreak in what would become her first number-one hit with the 2018 song "Thank U, Next." In the song, the superstar expresses her gratitude to her exes, singing: "Thought I'd end up with [Big] Sean/ But he wasn't a match/ Wrote some songs about Ricky [Alvarez]/ Now I listen and laugh/ Even almost got married/ And for Pete [Davidson] I'm so thankful/ Wish I could say thank you to Malcolm [Mac Miller]/ Cause he was an angel."
**Warning: video below contains explicit language**
Photo: Getty Images
Video: The Breakfast Club