Make These Easy (And Adorable!) Valentine's Day Cocktails: Watch
Love is in the air! To kick off Valentine's Day, Sisanie is mixing up two tasty Valentine-themed cocktails with our resident in-house bartender (American Top 40 and OAWRS colleague Kelly Ballhorn!) in the latest episode of Off-Air With Sisanie above.
Watch back the episode above to learn how to make the easy and love-filled drinks dubbed "Be My Valentine" and, of course, "Love Potion No. 9" and find the complete recipes below: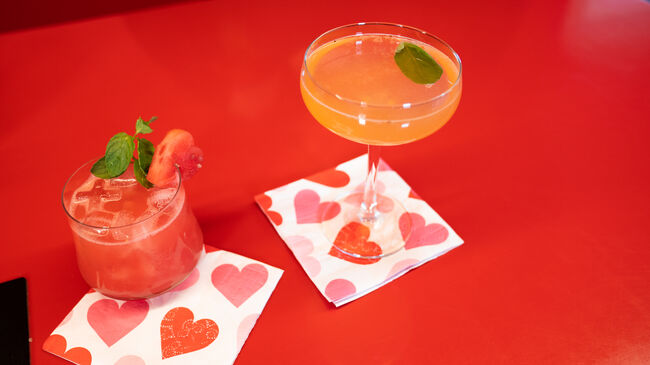 Be My Valentine Margarita
Ingredients:
* 1 cup Fresh Watermelon (cubed)
* 2 oz. Tequila
* 1 oz. Lime Juice
* 1/2 oz. Orange Liqueur
* 7-8 Mint Leaves (plus more for the garnish)
Directions:
Put watermelon into cocktail shaker with mint leaves, lime juice and orange liqueur. Muddle these ingredients, then add ice and tequila and shake. Strain into glass filled with ice. Garnish with heart shaped watermelon and mint sprig.
Love Potion No. 9
Ingredients:
* 1 Strawberry
* 2 Jalapeno Disks (slices)
* 3 Basil Leaves (plus more for the garnish)
* 1/2 oz. Lemon Juice
* 3/4 oz. Simple Syrup
* 6 oz. Champagne
Directions:
Add chopped strawberry, chopped jalapeño, torn basil leaves, lemon juice and simple syrup to mixing glass. Muddle these ingredients. Then add ice and champagne and stir. Strain into cocktail glass. Garnish with a basil leaf.