Justin Bieber & Hailey Baldwin Said They Were Celibate Until Marriage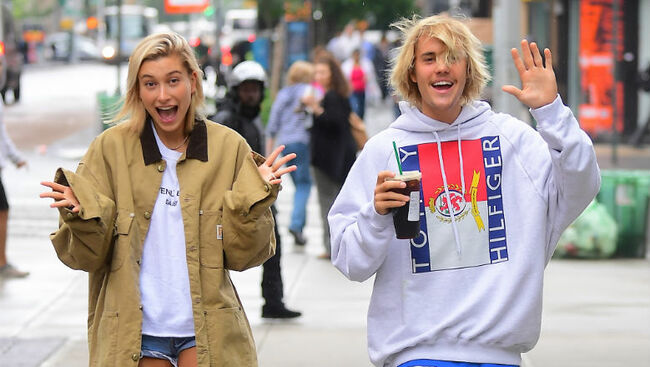 Justin Bieber and Hailey Baldwin's new tell-all interview for the latest issue of Vogue goes into detail about their love story, but one of the most telling moments of the interview fell on the pair's decision to remain celibate until marriage.
In the feature, which dropped on Thursday (February 7), Bieber revealed that part of the reason they chose to tie the knot back in September 2018 at a New York City courthouse was because they were waiting until marriage to have sex. "[God] doesn't ask us not to have sex for him because he wants rules and stuff," the singer explained, adding that he had a "legitimate problem with sex." "He's like, 'I'm trying to protect you from hurt and pain.' I think sex can cause a lot of pain. Sometimes people have sex because they don't feel good enough. Because they lack self-worth. Women do that, and guys do that."
"I wanted to rededicate myself to God in that way because I really felt it was better for the condition of my soul," the 24-year-old continued. "And I believe that God blessed me with Hailey as a result. There are perks. You get rewarded for good behavior."
Bieber and Baldwin's shoot, which reportedly took place in early December, also saw the pair get deep into their emotional dynamic. While Baldwin said that she has to "really dive deep and struggle" to get in touch with her emotions, Bieber is the exact opposite. "I'm the emotionally unstable one," he admitted. "I struggle with finding peace. I just feel like I care so much and I want things to be so good and I want people to like me. Hailey's very logical and structured, which I need. I've always wanted security—with my dad being gone sometimes when I was a kid, with being on the road," he explained. With the lifestyle I live, everything is so uncertain. I need one thing that's certain. And that is my baby boo."
For more on the Bieber's current views on religion, digesting fame at a young age and how he wants to enjoy his adolescence while being in a healthy marriage, click here to read the new cover story!