Shawn Mendes, Carrie Underwood Hit 2018 iHeartRadio Music Festival Day 2
All of the excitement continued during night two of the 2018 iHeartRadio Music Festival on Saturday, September 22nd at T-Mobile Arena.
Performing during the epic two-night concert were superstars including Justin Timberlake, Carrie Underwood, Shawn Mendes, Lynyrd Skynyrd, Luke Bryan, Kelly Clarkson, Imagine Dragons, and Logic. Between amazing never-before-seen collaborations, touching performances, and incredible covers, the second night of the festival was one to remember.
Take a look at all of the best moments from night two of the 2018 iHeartRadio Music Festival below.
Justin Timberlake Brought Out Shawn Mendes For 'What Goes Around...Comes Around'
During a career-spanning set from Justin Timberlake, who kicked off the show, the pop superstar surprised the crowd with Shawn Mendes who perform "What Goes Around...Comes Around" as a duet. They both also played acoustic guitar.
Breaking Down Shawn Mendes' GIF-Worthy Performance
Speaking of Mendes, the 20-year-old singer performed some of his biggest hits, such as "In My Blood," "Lost in Japan," and "Stitches." There were so many amazing moments during Shawn's performance that we just had to gif all of our favorites. Warning: these gifs are so adorable, you just might melt. Scroll down at your own risk.
Carrie Underwood's Baby Kicked During Her Performance
During her set, Carrie performed some new music from her new album like "Cry Pretty" and her latest single "Love Wins," in addition to some fan favorites like "Church Bells," "Blown Away," "Last Name," and "Before He Cheats." And, after singing "Last Name," she let everyone in the crowd know that her baby was really liking everyone in the room (and maybe he/she really likes that song). She said, "My baby was kicking during that one. My baby likes you guys." Watch the cute moment below.
Kelly Clarkson Brought Down The House With Aretha Franklin's "Respect"
Kelly Clarkson hit the stage mid-night to perform a beautiful tribute to the Queen of Soul, Aretha Franklin. The artist performed her classic hit, "Respect," displaying an overwhelming amount of soul with a funky beat as she remembered her biggest inspiration. Tonight is not the first time that Clarkson has praised the Queen of Soul. We've watched Kelly give tribute throughout the years, covering many of Franklins biggest hits like Natural Woman on American Idol and I Never Loved a Man at the Saratoga Performing Arts Center in 2013.
Imagine Dragons Proposed A Toast In Honor Of Las Vegas
Besides performing "Radioactive," "Natural" and "Thunder," the real highlight of Imagine Dragon's set arrived when the band proposed a toast to the city of Las Vegas in honor of the victims of the Route 91 Harvest Festival. "I'll have you know that when the shooting happened here in Las Vegas, we had just played here the night before," Dan explained to the crowd. "We were in Los Angeles. We got off stage and we turned on the television and all of our hearts broke for the city that we love. We immediately got on the phone, called our parents, called our friends to see if everyone was safe. My dear friend was a bartender and was there that night. I can tell you this city means everything to me and this band."
Logic & Ryan Tedder Took Their Bromance To The Closing Set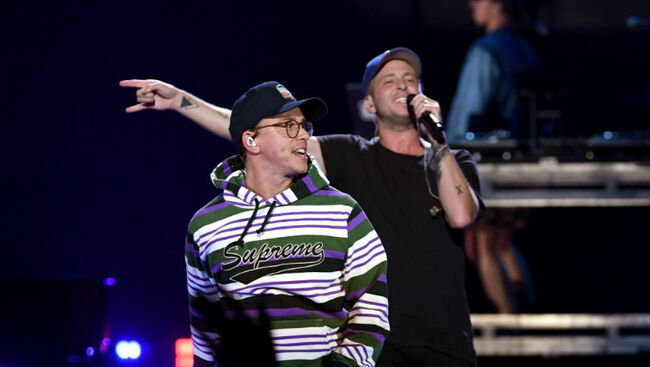 For the closing set, the rapper took the stage to close out Night 2 of our star-studded spectacle and part of the performance centered around his love for the OneRepublic frontman. "I want you guys to please give a round of applause for my buddy Ryan Tedder," he told the audience mid-set after performing "44 More," "Everybody" and "1-800-273-8255." In just a simple hat and t-shirt, Tedder took to a stationary black piano as Logic delivered the verses to the recently released track, which focuses on how his dreams have come to life and how he no longer has to look ahead because he has everything he ever wanted.
"And maybe one day I'll be wiser'/ Cause maybe one day I'll be further from here/ Put all of my faith in tomorrow/ Dark days keep me up all night/ Only thing I know, it's gonna be—Alright," Tedder belted during the hook. But the equal admiration for each other didn't stop there as the pair hugged it out at the end of the number and Logic told the crowd that Tedder was the most talented person he's ever worked with.
Luke Bryan Snagged The King Of The Dance Floor Title
During his set, Luke performed a handful of fan favorites including "Country Girl (Shake It For Me)," "Sunrise, Sunburn, Sunset," "What Makes You Country," "Most People Are Good," "Play It Again," and "Night to End." All throughout his set, especially during "Country Girl (Shake It For Me)," Bryan let his choreography loose.
Lady Gaga Facetimed Two Winners To Send Them A Star Is Born Premiere Tickets
Lady Gaga is on the promotional trek for her new film, A Star Is Born, which co-stars Bradley Cooper, and the pop titan surprised two fans with tickets to the premiere of the highly-anticipated film.
The Late Ronnie Van Zant 'Performed' 'Free Bird' With Lynyrd Skynyrd
On October 20, 1977, the world lost legendary Lynyrd Skynyrd singer Ronnie Van Zant when the plane he was on crashed in Mississippi. While the rocker's music has lived on, fans would never again get to see him perform live on a stage, but during the Skynyrd's set, they got as close as they could to once again playing with Ronnie.
As the group played an epic 12-minute long version of their classic song, "Free Bird," silent video of Ronnie singing the track was shown on the giant screen behind them, synced up perfectly with his brother, Johnny Van Zant's singing. Skynyrd rocked the tune with Ronnie as if their late bandmate was standing onstage with them once again.
Bobby And Sharna Had Their Minds Blown By An Illusionist
There are some amazing presenters and performers at the show, and before they take the stage, there were many things for them to do backstage. They could snack in their dressing rooms, do interviews with press, and this year, they were able to have their minds blown with some magic tricks.
Julius Dein, the illusionist who earlier this year went viral for leaving Drake speechless with his magic, was performing for all the artists and celebrities at Las Vegas's T-Mobile Arena. Bobby Bones and his Dancing With The Stars partner Sharna Burgess were treated to a trick, and they probably won't forget it.
Justin Timberlake and Selfie Kid Reunited
Don't you just love a good reunion? Justin Timberlake and the Selfie Kid have once again reunited right here backstage at the 2018 iHeartRadio Music Festival. Ryan McKenna, better known as Selfie Kid has surprisingly made a name for himself after the epic shot he snapped of he and J.T. during his halftime performance at the 2018 SuperBowl.
The two took a moment to catch up on what we presume life is like in 8th grade for Ryan and Justin's super cool performance with Shawn Mendes tonight. Either way, we're happy to have been there and caught the special moment between the two. Can we be invited to the next reunion guys?