Big Time Rush Reunion: James Maslow and Kendall Schmidt Hug It Out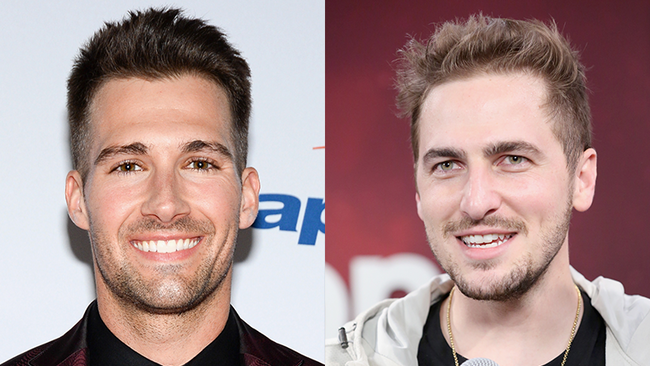 This is going to make Big Time Rush fans so happy. James Maslow and Kendall Schmidt had a mini BTR reunion on our iHeartRadio Daytime Stage and it was everything. James surprised fans by coming out on stage to introduce Kendall's band Heffron Drive, which he formed with Dustin Belt in 2008. Heffron Drive won the 2018 Macy's Rising Star competition, getting the chance to come out to Las Vegas to perform at our iHeartRadio Music Festival. Not only was it fitting to have Kendall's former band mate introduce him because of their history together, but because James was Macy's Rising Star in 2017. Could this moment be more perfect?
After James introduced Heffron Drive, Kendall ran out on stage with his arms open wide to hug his friend. It was such a sweet moment, we just had to turn it into a gif so we can watch it over and over again. After four albums and 74 episodes of their hit show, Big Time Rush is calling it quits. Unfortunately for their Rushers, that means the show isn't the only thing coming to an end -- their band is, too.
Big Time Rush announced their split back in 2013 after four albums and four seasons of their hit show-also called Big Time Rush-together. "Look, it's one of the biggest hits-between the music and the show-that Nickelodeon's ever had. We're proud of it and they're proud of it, and I think it's difficult for them to let it go," James told The Huffington Post at the time. Kendall chimed in saying, "It's sort of like a thin line to walk on, because we have a lot of fans who love Big Time Rush and we don't want to ever disappoint them. We want them to be fans of individuals whenever we go and do our own things-which I think they are anyway."
It's so great to see James and Kendall supporting each other all these years later. Now the next order of business is getting Carlos PenaVega and Logan Henderson at the next reunion.