Nicki Minaj Reigns Supreme From The Oculus For 2018 VMA Performance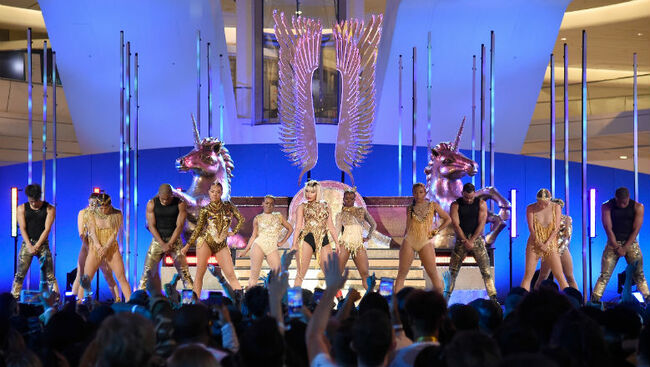 To cap off her celebratory week with Queen, Nicki Minaj reigned supreme at the 2018 MTV Video Music Awards on Monday (August 20) when the rapper performed a medley of "Majesty," "Barbie Dreams" and "Fefe" from The Oculus.
During the number, which opened up the third commercial break of the night, the 35-year-old superstar sat atop a gold throne in the middle of the venue to spit bars from the Queen track. Shortly afterward, Minaj flipped the tone of her number, removing an oversized pink garment and revealing a gold armor piece. Serving as a much-needed comeback performance, Minaj went into "Barbie Dreams," making sure that the entire audience at The Oculus understood the methods to her lyrical madness. After spewing bars from the fan favorite, Minaj turned her attention to "FEFE," her new collaboration with 6ix9ine, working in a fair share of choreography with her backup dancers.
Minaj previously performed at the show a number of times with collaborators. She hit the stage with Alicia Keys in 2012 and rapped besides Ariana Grande and Jessie J in 2014. Just a year later, she surprised the audience with a collaborative performance with Taylor Swift. Next up was her 2016 "Side to Side" set with Grande and, most recently, as Katy Perry's featured guest in 2017.
Earlier in the show, the visual for its lead single, "Chun-Li," won the title for Best Hip Hop video, beating out Cardi B ("Bartier Cardi" featuring 21 Savage), The Carters ("APES**T"), Drake ("God's Plan"), J. Cole ("ATM") and Migos ("Walk It Talk It" featuring Drake).
Speaking of competition, Minaj recently found herself at the center of some controversy when she put the target on Travis Scott's back for including a digital copy of his new album, Astroworld, with all items in his recently released line of merch. As per the Young Money MC, that was enough to push his album beyond Queen and snag the top spot on the Billboard 200 Albums Chart. As one may expect, Scott requested that he and Jenner sit away from Minaj during the ceremony to avoid any sort of awkward dynamic at the annual award show.