Why Kylie Jenner & Travis Scott Aren't Worried About The 'Kardashian Curse'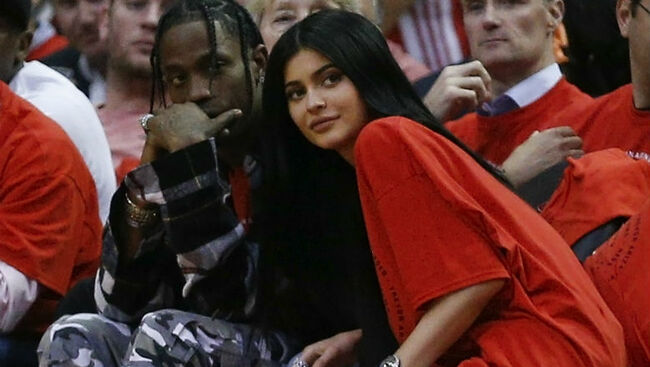 The Kardashians have a pattern of finding romance and then losing it due to the intensity of their celebrity, as per Kylie Jenner's new GQ cover story with beau Travis Scott, where she explained just why she and the father of her newborn, Stormi, won't fall victim to the Kardashian Curse.
On Tuesday (July 17), GQ unleashed the cover story, where the duo became rather candid about their relationship, admitting that they are trying their best to keep the romance on the low for Travis' sake. "I don't even be looking at motherf*ckers. I don't be looking at sh*t. Kylie actually likes me for me," the rapper said, before revealing that he has no nerves because he's "not into all the other s**t."
Meanwhile, Jenner didn't seem too concerned about the Kardashian Curse either, agreeing with the interviewer's theory that the men that have faltered to the curse simply weren't built for this level of celebrity. "Well, for all the news stories, it's how I get over them so fast. Trav, for example, he's like, 'Wait...but how do you just get over this?' He gets more angry about things. It's not just him. It's Jordyn [Kylie's best friend] who I've seen affected. It's everyone around us that aren't used to it. And we're just like, 'Oh, that'll go away in a day,'" she recalled.
"I know these stories aren't going to matter, so don't even let them affect you, you know? I think you're correct. But it's not just men—it's friends, it's people who come and just don't know how to handle it," she continued. "It's the negative. There's a lot of people who love us, but there's also a huge handful of people who don't like us."
Elsewhere in the cover story, Jenner revealed that the pair does not go on dates and never really even experienced a traditional first date. They met at Coachella, prompting a casual but relaxing hangout. "Coachella was one of the stops on his tour," she explained. "So he said, 'I'm going back on tour—what do we want to do about this?' Because we obviously liked each other."