Nicki Minaj & Ariana Grande Team Up For Sexy Collaboration 'Bed'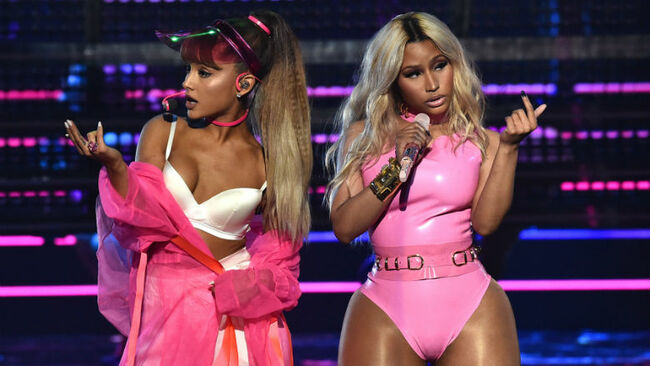 Nicki Minaj is one step closer to dropping her highly-anticipated new album, Queen, with the release of "Bed," her sensual new collaboration with Ariana Grande, which dropped on Thursday (June 14).
The playful pop-friendly track, which was produced by Messy, Beats, Ben Billions and SupaDubs, hear the stars inviting lovers into their beds, with the recently engaged Grande serving hook duties. "Bed" isn't just fueled by sex. In fact, Minaj seemingly wants companionship to pair with her lust. "I watch him f**k it up, look at him luckin' up/ I said you need some thick skin, baby, suck it up/ He go insane on it, I put my fame on it/ Coulda put ZAYN on it, but I put your name on it," she spits during one of the verses, shouting out the former One Direction bandmate. Queen is due in stores on August 10.
"Bed" marks the pair's latest collaboration after "Bang Bang," "Get on Your Knees," "Side to Side" and "The Light Is Coming," their upcoming team-up off Grande's new album, Sweetener.
In related news, Minaj was just unveiled as the new cover girl of ELLE's July 2018 issue, where the raptress spoke out about being single following her split from Nas a few months ago. "It's the first time in my life I've ever been single. I remember feeling like I could do anything at one time in my life and somewhere along the line, I just started second guessing myself for whatever reason," she told the magazine.
"Becoming single was one of the things that made me feel strong and powerful," the rapper continued. "The fact that I am a young woman who doesn't need a man for money. I don't need a man for a job. I've never had to f**k for beats. I've never had to f**k for a record deal. I don't have those pressures. I get up when I want, shop when I want."