Try Sisanie's WW-Approved Grilled Zucchini With Lemon-Herb Feta Recipe
Yum, yum, YUM! In the latest Off-Air With Sisanie episode above, Ryan Seacrest's cohost whips up a WW-approved recipe that will have you thinking it's summer already. 
The skinny recipe features grilled zucchini with lemon-herb feta and is only six points — and that's for the whole recipe. If you have just a serving, it's only ONE POINT! 
To whip up the tasty, mouthwatering dish, watch the video above and get the complete recipe below: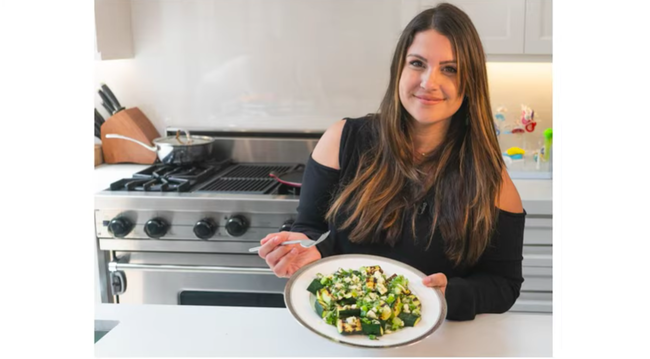 Ingredients:
crumbled feta cheese - 3 Tbsp
mint leaves - 2 Tbsp, minced
olive oil - 1 Tbsp, extra virgin
fresh lemon juice - 1 tsp
lemon zest - 1 tsp
uncooked scallions - 2 medium, minced
uncooked zucchini - 4 small, about 1 1/2 lbs
cooking spray
kosher salt - ½ tsp
Directions:
In a small bowl, combine feta, mint, oil, lemon juice, lemon zest and scallions; set aside.
Trim ends off zucchini and slice in half lengthwise; slice each half into 4 or 5 chunks. 
Place zucchini on a baking sheet and coat both sides with cooking spray and sprinkle with salt to taste
Then coat a grill rack or grill pan with cooking spray; heat over high heat and cook the zucchini, carefully flipping once, until grill marks are evident and zucchini is softened, about 3 to 4 minutes per side. 
Arrange zucchini slices on a platter and serve with feta topping.

Ryan Seacrest
Ryan is quite simply one of the most influential, well-regarded, and well-known names in Hollywood. He is the quintessential Hollywood insider who always manages to have the biggest scoops and the most sought after access to top events and celebrities.
Read more