Sisanie's Twins Are 9 Months Old! Find Out Her Latest Best Mom Tip
They're growing up right before our eyes! Sisanie 's twins  Aiza  and Maxon turn 9-months-old this weekend! The adorable duo are crawling and mom Sis shares in her latest New Mom update that they're also waking up on their own now. 
"I don't go into their room anymore to wake them up in the mornings," Sis explained. "Usually when they'd wake up in the morning and start crying, we'd go in there right away and change their diapers, but our pediatrician told us to stop doing that and just let them cry it out because eventually they're going to stop and sure enough, after like four minutes, they're done crying and then they just babble to each other. They just talk to each other for like 30 minutes."
Sisanie explained that gives her and husband Michael a spare 30 to 40 minutes in the morning. She's also eliminated a nap from their schedule, which, unfortunately, hasn't contributed to her me-time ...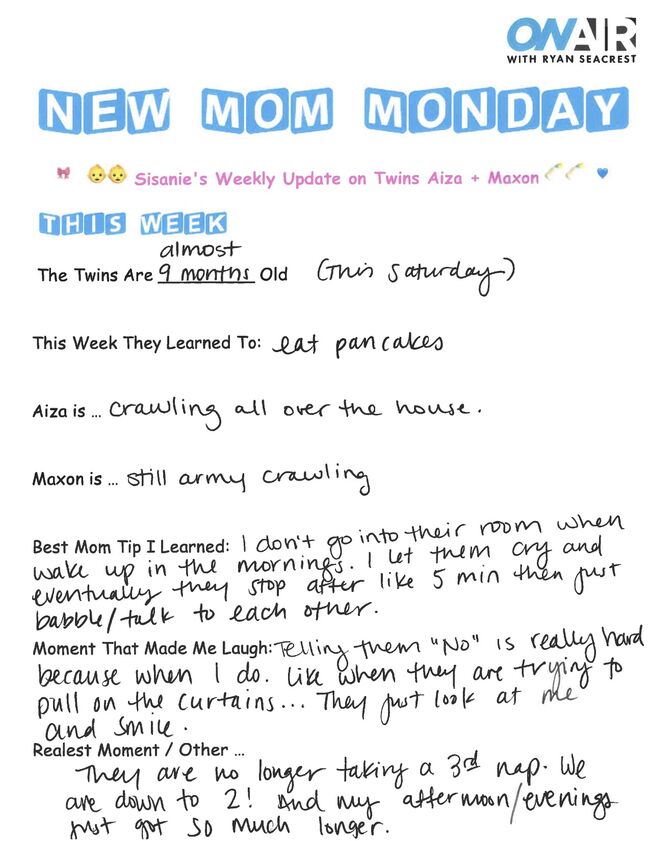 "I no longer have them taking a third nap which was my savior," Sis said. "It was a good chunk of time in my afternoon where I had them sleeping and now there's no third nap and apparently I was supposed to stop this at 6 months and they're almost 9 months old and it's stopping now so that means they're up from 3pm until 7pm so it's just baby land."
 Listen back to the audio above for more, including to hear the funny story about Maxon!

Ryan Seacrest
Ryan is quite simply one of the most influential, well-regarded, and well-known names in Hollywood. He is the quintessential Hollywood insider who always manages to have the biggest scoops and the most sought after access to top events and celebrities.
Read more