Ariana Grande Knew Two Years Ago She'd Marry Pete Davidson
Just like Justin Bieber and Hailey Baldwin, Ariana Grande also manifested her romance. The Sweetener songstress revealed during an appearance on The Tonight Show Starring Jimmy Fallon on Thursday, August 16, that she knew the second she met Pete Davidson she'd marry him.
According to Grande, it all happened after she met with the SNL actor backstage ahead of her hosting duties in March 2016.
"We never, like, exchanged numbers or anything," she explained. "We weren't even friends for a long time, but I had the biggest crush in the whole world on him the whole time, like, forever. My friends used to make fun of me."
So much so, she knew she would one day marry the actor.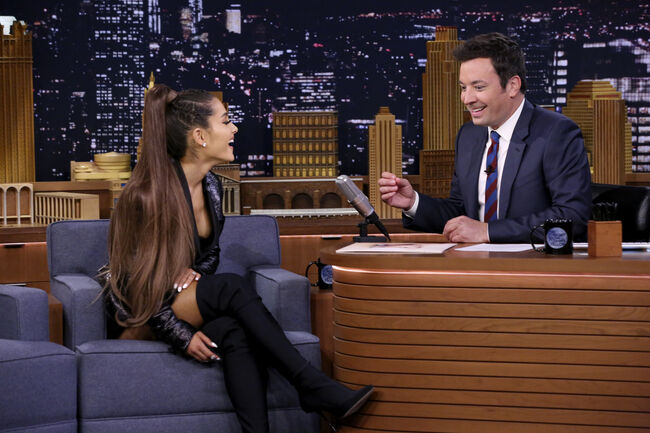 "I left his writer's room when we were writing skits and stuff for the show, and my tour manager Roshad was in the hallway," she continued. "And I'm not a crushy person. I don't have like, crushes on people I don't know. I'm not crushy. But I left and I jokingly said to my tour manager, I was like, 'I'm marrying him, 100 percent.' I was like, 'I'm literally marrying him.'"
And the feeling was mutual. Davidson similarly revealed during an interview with GQ, published earlier this week, that it was love at first sight.
"The day I met her, I was like, 'Hey, I'll marry you tomorrow,'" he admitted. "She was calling my bluff. I sent her a picture [of engagement rings]. I was like, 'Do you like any of these?' She was like, 'Those are my favorite ones,' and I was like, 'Sick.'"
Davidson ended up purchasing a stunning pear-shaped diamond ring for the singer and the rest is history!

Ryan Seacrest
Ryan is quite simply one of the most influential, well-regarded, and well-known names in Hollywood. He is the quintessential Hollywood insider who always manages to have the biggest scoops and the most sought after access to top events and celebrities.
Read more