Nicki Minaj Name Drops Rumored BF Eminem in YG's "Big Bank"
This is not a drill! Nicki Minaj said she's dating Eminem and sent the internet into a frenzy on Friday, May 25. It all started after the "Barbie Tingz" rapper confirmed to a fan that she's indeed dating Slim Shady after name dropping him in YG's new track "Big Bank."
One of her followers asked, "You dating Eminem???" after she posted a video promoting the track featuring Big Sean and 2 Chainz on Instagram to which she replied, "Yes."
In the track, Minaj references Eminem flat out, rapping: "Uh oh / Back again / Back to back Maybach, stack the M's / Told 'em I met Slim Shady, bag the M / Once he go black, he'll be back again."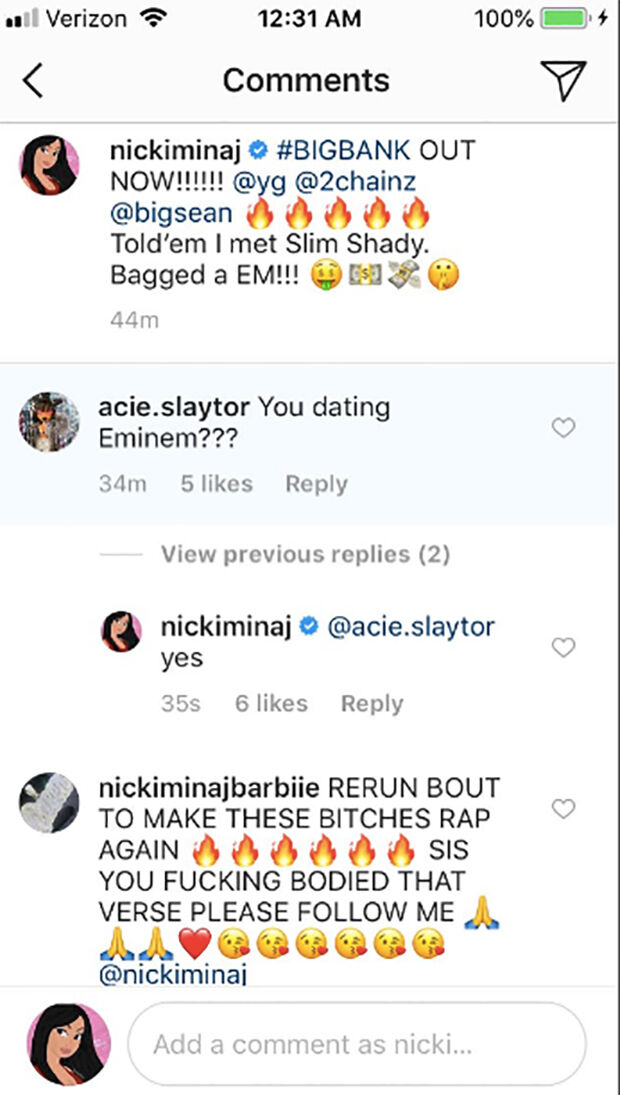 And there's more!
Nicki previously hinted at their romance in newly released track "Barbie Tingz" back in April.
"I'm still fly, just bagged a white guy," she raps in her single that was released off her forthcoming album last month.
The duo have worked together in the past and collaborated in 2010 on Minaj's track "Roman's Revenge."
Nicki was last linked to Nas, Meek Mill and Safaree Samuels. Eminem has yet to comment on the rumored relationship, but we're here for it!

Ryan Seacrest
Ryan is quite simply one of the most influential, well-regarded, and well-known names in Hollywood. He is the quintessential Hollywood insider who always manages to have the biggest scoops and the most sought after access to top events and celebrities.
Read more