Grammys' Biggest Moments: Beyoncé, Adele, Bruno Mars & More

Weren't watching the Grammy Awards on Sunday night? Well, then you surely missed out on loads of action from the hottest stars around. It is called the biggest night in music for a reason. During the James Corden-hosted affair, several industry titans of all genres used the platform for various reasons. Whether it was to show off a belly bump, tribute the lives of fallen idols or sound off on political views, these stars wasted no opportunities to use their voices.
In case you need a quick refresher on the biggest moments from the 59th annual affair, iHeartRadio has you covered with some of the most memorable highlights from the star-studded action. Take a look below!
1. Beyonce's Goddess-Inspired Maternity Performance
Tina Knowles-Lawson introduced her daughter to the stage and the rest was Grammy history. With a mega screen onstage with her that gave viewers hologram vibes, the special effects that were a part of Bey's set made us even more mesmerized during her set, which would go on to include a medley of "Love Drought" and "Sandcastles."
Channeling Yoruba Goddess Oshun with her yellow dress that accentuates her baby bump, Bey and her backup dancers gave us a show that we didn't want to end. There was one moment that did make us panic for Bey and her unborn babies' safety, though. That moment Bey sat on a chair that was feet above ground and it tilted backwards made us all stop breathing. But, she pulled it off like the boss her is.
2. Adele Stops George Michael Tribute, Drops F-Bomb
After performing her juggernaut ballad "Hello" on Sunday, Adele returned to the stage to deliver a musical tribute to George Michael, who passed away on Christmas Day last December. Early into her "Fastlove" rendition -- which saw a montage of George Michael photos and videos projected onto the big screen behind her -- the British singer noticed her performance was a bit off-key, prompting her to swear and stop the music for a do-over.
"I know it's live TV, I'm sorry," she said mid-performance before dropping series of expletives. "I can't do it again like last year. I'm sorry for swearing and sorry for starting again, can we please start it again. I'm sorry, I can't mess this up for you. I'm sorry." By the end of her performance, Adele was visibly devastated and broke down in tears. Despite her restart, she was greeted with a standing ovation from her colleagues inside the Staples Center, including Rihanna and Jennifer Lopez.
3. twenty one pilots Accept Grammy Award In Their Underwear
After it was announced that twenty one pilots had won their Best Pop Duo/Group Performance Grammy, they stood up, took off their pants, and proceeded to the stage to make their acceptance speech ... in their underwear. By the way, they are both boxer briefs kind of guys, incase you were wondering.
"This story, it starts in Columbus, Ohio, it was a few years ago and it was before Josh and I were able to make money playing music," Tyler Joseph confessed. "I called him up, and I said, 'Hey Josh, want to come over to my rental house and watch the Grammys? As we were watching, we noticed every single one of us was in our underwear, and seriously, Josh said to me, and we were no one at the time, he turned to me and he said, 'If we ever go to the Grammys, if we ever win a Grammy, we should receive it just like this.'"
4. Katy Perry Makes A Political Statement
Katy Perry took to the 59th Grammy Awards on Sunday night to offer the debut performance of her brand-new single, "Chained To The Rhythm," and the live rendition brought the political undertones of the track when a projection of the U.S. Constitution lit the stage. "No hate," she said at the end of the number.
It was a small, but much-needed political foreshadowing of what would happen later in the night, courtesy of Busta Rhymes, A Tribe Called Quest and Anderson .Paak.
5. Adele's Album Of The Year Grammy Win Brings Beyonce To Tears
As is the case every year, all the anticipation from the annual Grammy Awards reached new heights during the final moments of the Sunday night affair when the 59th annual ceremony awarded the Album of The Year title to Adele for her massive blockbuster LP, 25.
After having some issues finding her words, the British chart-topper turned her attention to the real elephant in the room: Bey's loss. "I can't possibly accept this award. And I'm very humbled and I'm very grateful and gracious but my artist of my life is Beyoncé and this album to me, the Lemonade album, was just so monumental, Beyonce. It was so monumental and so well thought out, and so beautiful and soul-bearing," she tearfully said at the podium.
"We got to see another side to you that you don't always let us see, and we appreciate that, and all us artists here who adore you. And you are our lives, and the way that you make me and my friends feel, the way you make my black friends feel is empowering, and you make them stand up for themselves, and I love you. I always have and I always will."
6. Bruno Mars & The Time Warm Our Purple Hearts With Epic Prince Tribute
Bruno and The Time performed a tribute set for the late icon and everyone watching was on their feet, as soon as the beat dropped. The Time started things off by singing a couple of hits like "Jungle Love" and "The Bird." After they warmed the crowd up, that's when Bruno turned things up a notch and got crazy...seriously.
The "24K Magic" artist, who's been compared to Prince a number of different times throughout his career, put on a performance that would've made the icon proud for sure. Bruno sang his heart out when he performed "Let's Go Crazy." With his guitar in hand, the performer shredded more than a young Arnold Schwarzenegger at the bodybuilding competition on a hot summer day.
7. Lady Gaga & Metallica Rocked Our World
Welcome to your new obsession: METALLI-GA. Lady Gaga and Metallica teamed up for an on-stage collaboration of EPIC proportions on Sunday. They rocked our world with the iconic rock band's new single "Moth into Flame" from their new album Hardwired... to Self-Destruct ... even WITH some technical difficulties. The Metalli-ga performance was hot, literally, beginning with TONS of pyro ("Moth into Flame" - see what they did there), and even a small mosh pit of dancing girls. Then, out emerged Lady Gaga, clad in a cropped Metallica t-shirt and shorts, as she took her place with the rest of Metallica.
However, the performance was off to a rocky start when technical issues caused no sound to come out of James Hetfield's mic. The rocker eventually joined Lady Gaga at her mic to sing his part and continue the performance. And eventually, out of frustration, he kicked the mic stand. The rest of the performance was high-energy, and classic Metallica. The entire stage was like a mini Metallica concert of mayhem -- in an excellent way. Lady G even threw herself into the crowd during an epic stage dive.
8. A Tribe Called Quest Makes Fearless Political Statement To Donald Trump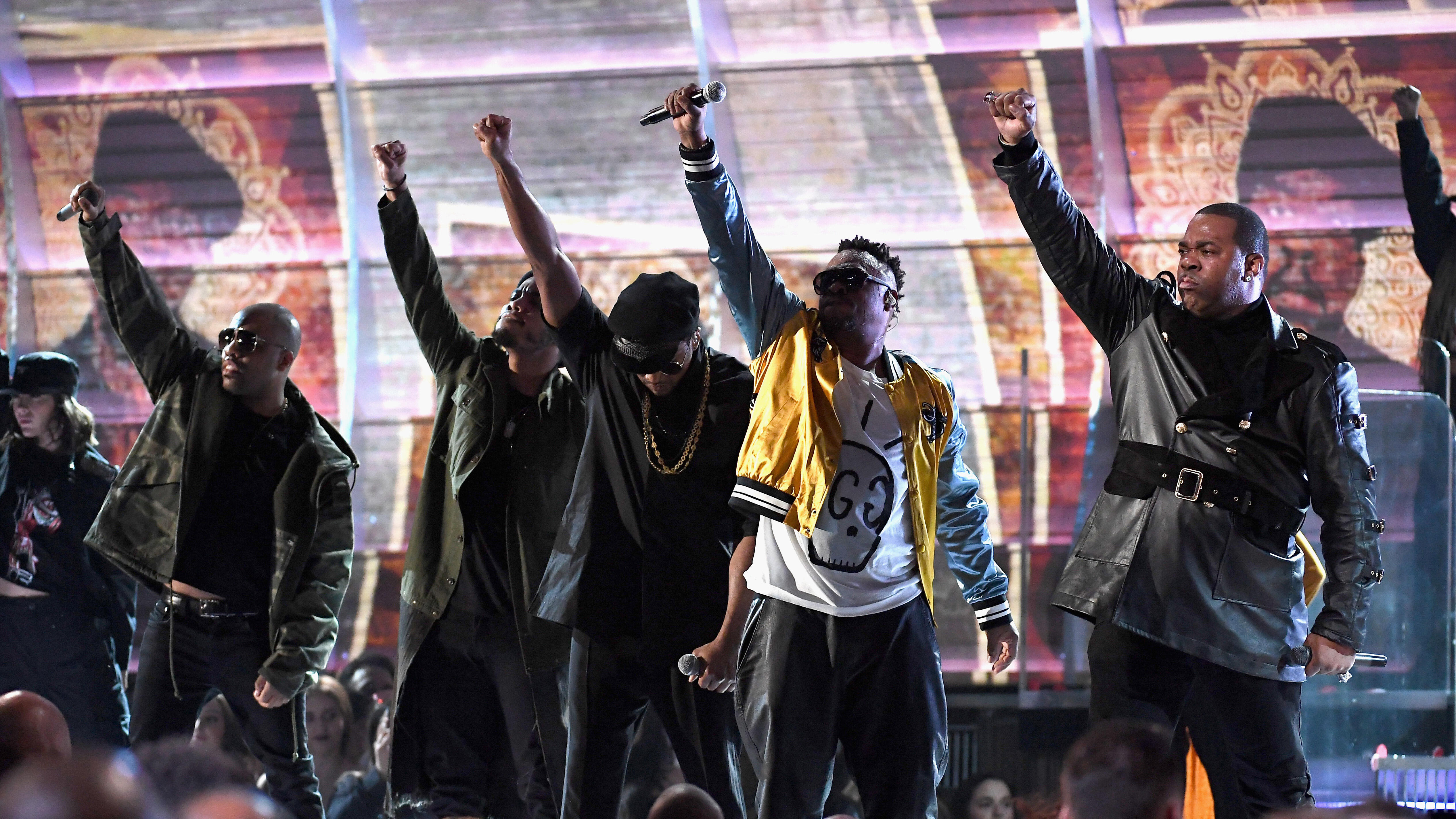 A Tribe Called Quest came through the 2017 Grammys with Anderson .Paak, Consequence, Busta Rhymes and dozens of men and women representing us, the people from all different ethnic backgrounds, hues and religions to send a direct message to the United States and it's new president, Donald Trump, in particular: we will unity and resist.
The MCs first remembered their late member, Phife Dawg and then pumped the crowd up by spitting hits like "Award Tour," "Can I Kick It?," and "Movin Backwards." The performance's final song was "We the People" from Tribe's latest album, We got it from Here… Thank You 4 Your service, and throughout it, the group unapologetically spoke the realness.
"I just wanna thank President Agent Orange for perpetuating all of the evil that you've been perpetuating through the United States," Busta shouted through his mic. He didn't hold his tongue one bit and referenced Trump's controversial Muslim Ban, too. As the group was rapping "We The People," several everyday walked up to the stage to join the MCs spoke their message.
If there was one person that scored an incredible amount of screen time for having absolutely no nominations, it's little ol' Blue Ivy. Bey and Jay's 5-year-old was front and center for the evening affair and made sure to get into the action when James Corden hosted a spontaneous "Carpool Karaoke" sing-a-long, to mingle with some grown stars and entirely avoid her mother's acceptance speech for Best Urban Contemporary Album. Must be nice to be Blue Ivy.
10. Demi Lovato, Tori Kelly, Andra Day & Little Big Town Pay Tribute To Bee Gees During Grammys
Demi Lovato, Tori Kelly, Andra Day, and Little Big Town all got in touch with their inner disco selves to honor the 40th anniversary of Bee Gees' 1977 soundtrack album Saturday Night Fever. Kicking off the tribute was Demi Lovato, rocking a low-cut, sequined jumpsuit as she took the stage to sing Bee Gees' iconic hit "Stayin' Alive." Demi was followed by Tori Kelly, who took front and center with her guitar as she performed the band's 1979 song "Tragedy." Country band Little Big Town appeared next, nailing their gorgeous cover of "How Deep Is Your Love," before Andra Day followed the group with a performance of "Night Fever." Demi, Tori, and Little Big Town returned to join Andra to close out the tribute with "Stayin' Alive."
11. Maren Morris & Alicia Keys Team Up For Soulful 'Once' Grammy Performance
First-time Grammy-winner and country star Maren Morris teamed up with 15-time Grammy winner Alicia Keys on a STUNNING soulful duet of Maren's song "Once" from her major label debut album Hero. The performance started off with just Maren, before she was joined on stage by Alicia. Both of the girls wore glittering, low-cut body suits as they continued to belt out the song together.
12. Chance The Rapper Wins Big
Shoutout to Chance The Rapper! The Chicago MC won the Best New Artist and the Best Rap Album awards at the 2017 Grammys. The Best New Artist honor was presented to Chance by Jennifer Lopez, who first reminisced about her first Grammys nomination -- not to mention the unforgettable dress she wore -- before bestowing the award to the "No Problems" rapper. As soon as J. Lo announced Chance as the winner, the crowd at the show erupted and so did rap fans on social media.